Comedian Mark Thomas at the Trades: review
Sunday, 17 February 2013
Paul Clarke reviews Mark Thomas's 'Bravo Figaro' at the Trades (Wednesday 13 February) and says our town needs to get its thinking caps for when Mark returns with his Manifesto show in April.
'I love it here. The shops are brilliant, this club is great and all you need now is to get rid of Bernard Ingham.' Mark Thomas
You don't do stand up for nearly three decades without knowing how to win over an audience and Mark Thomas does it without appearing to be cheesy such is his charm.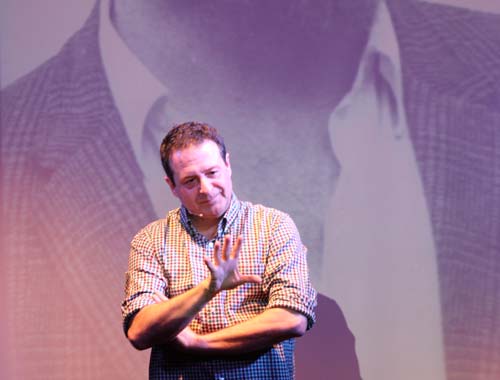 Many of the sold-out crowd were there because they remember Mark's jolly japes on Channel 4 using a range of guerilla antics to mock and expose the hypocrites running our nation, but it is easy to forget he is one of our best stand ups. This show was a bit of an oddity as it falls into two halves - one uproariously funny straight stand up and other a clever mix of humour and pathos.
The first half was Mark riffing on language and gestures which was essentially him talking about the best ideas from his Manifesto show where members of the audience are asked to submit their suggestions for an alternative political manifesto. Some are surreal and others brilliantly simple. The one most appropriate for Hebden was that: Anti-social idiots who allow their dogs to foul footpaths should be forced to wear the poo as a moustache.
The second half of Bravo Figaro was Mark examining in public his difficult relationship with his Tory voting, bigoted, violent father Colin who was also paradoxically a huge lover of opera. Mark used the C word to describe his larger than life father who was more than a little handy with his fists with his family, and clearly had a huge impact on Mark's personality. His father was also a working class builder who goes to the Royal Opera House and Glyndebourne where such men are a rarity.
But this complex force of nature was struck down by the muscle wasting condition Progressive Supranuclear Palsy and the final coda was Mark lining up some Royal Opera House singers to perform in his father's Bournemouth bungalow. Sounds incredibly trite, but was actually incredibly moving as Mark tried to reconcile his own demons and bring his stricken father back to him for a few hours.
Mark himself admitted some of his acting might be a bit ropey, but despite an audience member's baby wailing though a particularly sensitive moment - only in Hebden - he somehow pulled the props and frank audio recordings of his parents into something coherent. The result is not a man in the house who didn't recognise their fraught relationships with their own old man.
Mark Thomas came with reputation as a professional Sarf London lefty wind up merchant but left his mainly middle class audience with much food for thought and an insight into a world they barely knew existed.
The Trades have booked Mark Thomas to come back to do his Manifesto show that has been such a big hit live and Radio 4 on Wednesday 4 April, but they need your help. They need everyone who buys ticket to start thinking about their own People's Manifesto idea so we can produce the best ideas of any town in the UK. On every seat there will be a slip for you write down your ideas and Mark is confident the Calder Valley will be a rich source of thoughtful ánd offbeat ideas. The ball in now firmly in our court.

See also:
HebWeb News: Mark Thomas plays the Trades Club (Nov 12)