Ofsted removes Calder High from special category - the threat of Academy recedes
Monday, 18 February 2013
Last week inspectors from Ofsted visited Calder High. This was to assess progress since the last inspection which had said that the overall effectiveness of Calder High School was inadequate.
The possibility of Calder High being forced into becoming an academy was very real indeed; it all hinged on last week's Ofsted visit.
The fantastic news is that the inspectors have now removed Calder High from its special category, having now made sufficient progress.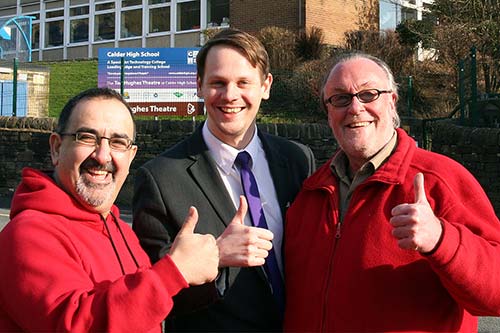 Reacting to the news Cllr Simon Young said: "I'm so thrilled that the hard work and determination of the staff, students and governors has paid off. We all knew that our local community school was making real progress and that a tremendous amount of work has been done to turn things around.
"The very real prospect of Calder High being forced into an academy received deafening disapproval by the local community.
"It's time now to turn our attention to physically rebuilding our local community school and hold those politicians who have promised so much and delivered so little to account".
Cllr Dave Young said: "This was one of the first Comprehensives School's set up in the North of England in 1948 and is dear to our heart in the Upper Calder Valley.
"I would like to thank all the teachers, School Governors, parent, pupils, ex pupils and Calderdale Council who have worked together to help get Calder High a good Ofsted Report to take the threat of being turned into an Sponsored Academy off the agenda"
Cllr Nader Fekri said: "I am delighted that the school's hard work has paid off. This means that they will not be coerced by the government's strong-arm tactics to turn them into an unwanted sponsored academy. Well done everyone."
Labour Cabinet member Cllr Megan Swift commented: "This is fantastic news for Calder High. It means their future is now in their own hands - instead of them being forced down the academy route by the Government they can now work with parents to decide the best way forward for the school"

See also:
HebWeb News: Petition objecting to Calder High becoming an Academy (Feb 2013)
Download petition to oppose our community school being given away to an academy sponsor.
HebWeb Forum: Calder Academy? (Dec 2012 onwards)
HebWeb News: November and December