Bernard Ingham column comes to an end
Wednesday, 27 February 2013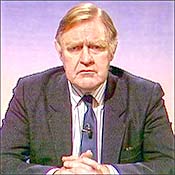 Following his persistant failure to apologise for remarks about the Hillsborough tragedy, and a concerted campaign to have him removed from the local paper, Bernard Ingham has been told he will no longer be writing for the HB Times. Apparently, he is not happy.
Local campaigners met with Editor of the Halifax Courier and HB Times, John Kenealy and were invited to publish a piece explaining why they thought Ingham should no longer be employed by the paper.
Campaigners learned this morning that the piece would not in fact be publiished in the paper but neither would Bernard Ingham being writing his column any more.
There will ne no mention in HB Times of Ingham's column being dropped. From next week there will be a new column, My Calder Valley, with different writers each week (starting with Editor John Kenealy next week) The new column will be about what people think of the area, why they are here, what excites them about the Calder Valley. Something very similar to what campaigners had suggested when they met the Editor.
Campaigners started a Facebook page which received over 500 supporters
The HebWeb can now publish the piece the local paper wouldn't. See below.
Below the article, we also provide links for the research campaigners did to back up their allegations about Ingham.
Finally, we offer a selection of Bernard Ingham quotes taken from the pages of the local paper.
Bernard Ingham must go
Now is the time for the Hebden Bridge Times to finally give Bernard Ingham the push. Everyone now knows that his comments about drunken football supporters at Hillsborough were lies. But unlike other politicians and journalists who made similar statements at the time of the tragedy, Bernard Ingham has consistently failed to apologise. That he is a nationally famous Yorkshireman is no reason to continue his monthly rant. After all, he has had little or no contact with the Calder Valley for decades.
Bernard Ingham was part of the monumental cover-up of the truth about the Hillsborough tragedy, a cover-up that David Cameron described as "vile" and "disgusting". Ingham knew that the Hillsborough disaster was due to police failings from very early on, but still persisted in blaming the fans.
Grieving families have had to fight for 23 years to get to the truth. The original inquest verdict was overturned following the publication of the Hillsborough Independent Report in September 2012. There is going to be a new inquest and very likely an investigation into the cover-up – and Ingham's role in it.
In a letter to Graham Skinner who had lost a friend at Hillsborough Ingham said, "I have no intention of apologising for my views which are sincerely held on the basis of what I heard first hand at Hillsborough.' He goes on to say that 'tanked-up yobs' caused the disaster. 'Liverpool ... should shut up about Hillsborough'. He never misses an opportunity to offend.
Bernard Ingham should be thoroughly ashamed of his part in this, and could easily have used his column to apologise. He has not done so. Apologies have come from chief constables Norman Bettison and David Compton, from Prime Minister David Cameron, Boris Johnson then editor of The Spectator, Kelvin McKenzie and Dominic Mohan of The Sun, David Whiting of Yorkshire Ambulance, Sheffield Wednesday FC and Sheffield City Council. But Ingham doesn't have the decency to join them.
And what did he hear first hand? The lies about football fans being drunk. He believes what is convenient. The Sun and senior police officers were blaming the fans and telling lies. Lower down the ladder regular police officers were having their statements altered and complaining about what senior officers were saying. Merseyside Police Federation said that accusations from senior officers against Liverpool fans were "ill-informed comments" which were "based on hearsay rather than evidence". Ingham preferred the hearsay to the evidence.
But Ingham does not see the truth as something that should restrict him. The Hillsborough Independent Report makes it clear he knew the truth early on. He told journalists on 18 April 1989 that what happened 'was not the result of obvious hooliganism but was more a matter of safety at sports grounds'.
Even in 1996, Ingham was still at it. On BBC Question Time he said, "In my view the culprits of Hillsborough were those yobs in mass numbers ... who turned up just before the match and tried to force their way in.. They are responsible for the deaths of innocent people." The evidence is clear – they weren't drunk and didn't force their way in. And Bernard Ingham knew that.
He cares nothing for truth, preferring to hide behind lazy journalism and insults, referring to his critics as Thought Police (HBT 7th Jan) . If Ingham cares to check he'll find that Orwell's Thought Police were part of the establishment whose job was to track down thought crime - that is anyone who disagreed with Big Brother, regardless of what was true. So if anyone is the Thought Police it is Bernard Ingham himself.
In defending the Hebden Bridge Times, Editor John Kenealy has argued that Ingham didn't say any of these things about Hillsborough in his paper. Yet Ingham has used the paper to say people in the valley are not interested in Hillsborough and to generally insult all those who disagree with him or who care for our town. In 2001, John Morrison wrote to the Editor of the HB Times complaining about Ingham insulting lesbians in his column (his letter was not published) and people are still complaining about his offensive attitudes.
In particular, Ingham has been attacking the environmentalists for years; in fact, it's a feature of nearly every one of his columns. Yet how often has the Hebden Bridge Times told its readers of Ingham's paid consultancy with the nuclear industry?
If Bernard Ingham's disgraceful insults to those still grieving from the Hillsborough tragedy aren't enough for the Editor to sack him, then surely his persistent failure to apologise following the Hillsborough Independent Report must be.
The Hebden Bridge Times a long way from being 'our paper, our voice'. Allowing us this right to reply is a welcome start. But it is only a start. Hebden Bridge has dozens of talented writers. Any one of them could do a better job than Bernard Ingham.
References
1. Hillsborough Independent Panel Report
2.6.24
Comments made by Bernard Ingham, the Prime Minister's Press Secretary, in the aftermath of the disaster and some years later provide an indication of the discussion at the meeting. His Westminster lobby briefing of 18 April 1989 records journalists being informed that '[w]hat had happened on Saturday was not the result of obvious hooliganism but was more a matter of safety at sports grounds'.

2.6.25
However, this contrasts markedly with his position several years later when he wrote that during the visit to Sheffield on 16 April he 'learned on the spot' that '[t]here would have been no Hillsborough if a mob, who were clearly tanked up, had not tried to force their way into the ground. To blame the police is a cop-out'.

Lobby briefing, 11am 18 April 1989, ING000000020001, p3.
Scraton, P Hillsborough: The Truth Edinburgh: Mainstream Publications, 1999 (1st Edn).
2. Merseyside and South Yorkshire senior officers blamed the fans. However, Merseyside Police Federation was quoted as saying that the accusations against Liverpool fans were "ill-informed comments" which were "based on hearsay rather than evidence". BBC news


3. John Morrison and Bernard Ingham. October 2001 Hebweb
4. Apologies. The mayor of London says sorry for comments in 2004 in the Spectator, which he edited at the time, about the Hillsborough disaster Link to video: Boris Johnson apologises for Hillsborough comments
David Cameron
Everywhere!
Chief constable David Crompton of South Yorkshire Police: "I would like to profoundly apologise"
David Whiting, Chief Executive of Yorkshire Ambulance Service NHS Trust, said: "I sincerely apologise for the shortcomings identified in the report relating to the way in which the incident was managed in the early stages."

Sheffield City Council Chief Executive John Mothersole issued a statement in which he "sincerely apologises" for the actions of the council at the time.
Sheffield Wednesday FC, whose ground hosted the fateful match, offered "sincere condolences and an apology" to all the families who suffered as a "consequence of the tragic events".
Norman Bettison The chief constable of West Yorkshire police has apologised for any upset caused by his statement that Liverpool fans' behaviour made policing at the Hillsborough tragedy "harder than it needed to be".

5. WSC However, the editor of the newspaper, John Kenealy, said: "Like all our columnists, [Bernard's] views are his own and not those of the newspaper and when determining the content of the newspaper we pay close attention to the views and wishes of all our readers. The comments he made about Hillsborough some years ago were not made in this paper."

6. In January Ingham said that Hillsborough was not a priority for people in the valley. HB Times
7. Thought Police HB Times 7 February
It is the job of the Thought Police to uncover and punish thoughtcrime and thought-criminals. See also 1984 by George Orwell

8. Letter from Sir Bernard Ingham to Graham Skinner in December 30, 1996. Thank you for your letter of December 11. I believe that there would have been no Hillsborough disaster if tanked-up yobs had not turned up in very large numbers to try to force their way into the ground.
I visited Hillsborough the day after the disaster and I know what I learned then. I have never denied that the police may have made mistakes, but I firmly believe that the Lord Chief Justice whitewashed the real culprits and I said so from the moment I read his report.
I have not seen the McGovern film. But I am long enough in the tooth to know that TV films should never be accepted as evidence. But let us suppose there is something in the film – for example, the "evidence" that the pens were already full when the gates were opened. What, then were all those people doing trying to get into the ground? I have never, of course, said where they came from because I do not know
I have no intention of apologising for my views which are sincerely held on the basis of what I heard first hand at Hillsborough. I have, however, one suggestion to make: for its own good, Liverpool – with the Heysel disaster in the background – should shut up about Hillsborough.
"Nothing can now bring back those who died – innocent people who, by virtue of being in the ground early, had their lives crushed out of them by a mob surging in late.
To go on about it serves only to confirm in many people's minds that Liverpool has a very bad conscience about soccer disasters. I think it a disgrace to the public service that South Yorkshire policemen have won the right to compensation. But it will do Liverpool no good whatsoever in the eyes of the nation if, egged on by ambulance-chasing lawyers, those who saw their relatives killed at Hillsborough now sue for compensation for the "trauma". Is the pain of losing a relative to be soothed away by a fat cheque?
Take my advice, Mr Skinner: least said, soonest mended for Liverpool.


9. BBC Question Time transcript
Bernard Ingham: in his own words.

7th Feb 2013 – Everyone who objects to him
"Let's see if I can now set the self-appointed Thought Police of Upper Calder Valley alight."
6th September 2012 – David Fletcher
"It is clear that David, a fellow member of the Hardcastle Crags Preservation Committee, has water on the brain. "
2nd February 2012 – Barbara Green
"And you could have knocked me down with one of Barbara Green's featherlight letters"
3rd November 2011 – Anyone "Green"
"Similarly the Greens of Hebden Royd should confess they are behind steep rises in energy bills that are increasing the number living in fuel poverty because of their own power source prejudices."
6th October 2011 – Bear - John Busby
"I know this is guaranteed to bring on a collective fit among Steve Gibson (sorry, Bear's) Transition Town followers and people like John Busby who apparently read this newspaper in Bury St Edmunds.
1st September 2011 – Everyone who gets fuel from a "green" supplier
"No wonder they can afford to pay Hebden Bridge Transition Town a sweetener for every poor, deluded consumer who signs up."
12th May 2011 – Andy Wilson – John Butterworth – the Ward Councillors
"that old fantasist, Andy Wilson, of Hurst Road."
"John Butterworth, of Pecket Well, emerged again to prove conclusively that he has not understood a word I have written over the years by revealing he is in favour of nuclear power in a mix of electricity sources." "Allow me formally to welcome Mr Butterworth to the land of reality."
"that narcissistic trio called Fekri, Morgan and Battye"
7th June 2007 – All elected councillors
"councillors not only pay themselves oodles of your brass but preside over an extortion racket"
1st June 2006 – Andy Wilson – Anyone who has microgeneration, eg solar panels
"Andy Wilson's fantasies about deaths from radiation."
"The generous conclusion is that micro-generation enthusiasts are starry-eyed idealists who don't know what they are talking about. The uncharitable conclusion is that they couldn't care less about your electricity supply."
From the HebWeb feature by John Morrison: "In column after column he snipes at the town from his bunker in Purley. He promotes himself shamelessly, as well as those companies in which he has a financial stake. He tells us how we should live our lives. He discounts opinions that differ from his own as bunkum and balderdash. And he does all this in the hectoring tones of the playground bully.
In his last column, for example, he reminisced about what life was like before lesbians', and commented that the town's supposed status as the Lesbian Capital of Great Britain' does not say much for the men of Hebden Bridge. No doubt he is aware just how offensive these words are… to lesbians and blokes alike.
See also
HebWeb Forum: Bernard Ingham - Jan-Feb 2013
Guardian Northerner: Hebden Bridge residents launch campaign against Bernard Ingham amid calls for local paper to sack former Thatcher aide as columnist for his refusal to apologise for comments about Hillsborough disaster. (1 Feb)
HebWeb News: Hillsborough - calls for local papers to end Bernard Ingham's Column (Jan 2013)
HebWeb Forum: Bernard Ingham and Hillsborough (Sept-Dec 2012)
Facebook: Remove Bernard Ingham as HB Times columnist
Online petition: We the undersigned believe that due to his lack of integrity over such issues as the Hillsborough disaster and his repeated attacks on wind-farms without declaring his own financial interests in nuclear power, Bernard Ingham is not fit to be given a regular column in the Hebden Bridge Times.
HebWeb News: Bear v Bernard (Sept 2011)
HebWeb Feature: John Morrison and Bernard Ingham (October 2001)