The Back Door - an Art Studio for the Community
Tuesday, 12 March 2013
Since moving to its Valley Rd premises six years ago, the Northlight Art Studios cooperative has grown into a successful model of a sustainable community social enterprise. Grants from the Arts Council, the Esmee Fairbairn Foundation and Hebden Royd Town Council have helped to establish the organisation not only as a provider of studio space for artists and craftspeople but now as the leading centre for visual arts and crafts adult education in the area.
Several of its members are experienced art teachers and lecturers who are keen to share their skills, knowledge and passion for the visual arts with the community. This spirit has driven the cooperative to develop The Back Door – an art studio for the community! The result is now a thriving and accessible organisation that supports and promotes practice in the visual arts and crafts for those just starting out to experienced professionals.

Over the last four years the Back Door has developed a consistently engaging programme of art and craft related classes and workshops with its flagship 'Art for the Terrified' class led by Mary Loney MBE still as popular as ever. With small groups and plenty of attention, Back Door classes are open to people of all ages and abilities.
The Back Door now offers a range of regular weekly courses covering painting, drawing, collage, life drawing and ceramics. Northlight has now teamed up with Calderdale Adult Learning to offer an extensive programme of weekend day workshops that tackle more specialist pursuits such as life painting, lino printing, textiles, digital photography, colour theory and bookbinding.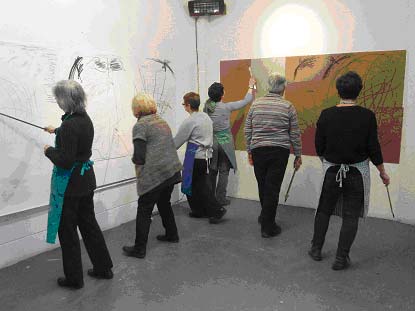 "The Back Door has now become an established part of the community adult education offer for this area with over 300 people accessing our courses last year. We are now getting people travelling from across the country for our weekend workshops – very much driven by the reputation of Hebden Bridge as a centre of excellence for the Arts. Our courses are great fun but also challenging and taught by really excellent, practicing artists…..and our students keep on coming back!" says co-ordinator Don Myers.
The Back Door is now in its Spring term with nine flourishing regular classes now underway. It is sometimes possible to join mid-term - please ring for availability or book for the Summer term starting on April 15th.
Day and weekend workshops planned for the Summer Term:
Bookbinding;
The Art of Mosaic;
Islamic Design;
Still Life Painting in Oils;
Portrait Painting in Oils;
Raku Ceramics;
Machine Embroidery;
Life Draw and Print!;
Digital photography – town and landscape
A Summer School is now in the planning stages!
To find out more about Northlight Art Studios and The Back Door visit www.northlightstudio.co.uk or phone 01422 843519.
Thanks to Don Myers for this report