Calling Green-Fingered Gardeners who love Railway Stations!
Wednesday, 13 March 2013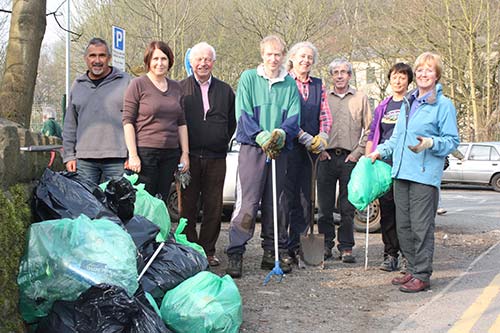 The gardens outside the railway station at Hebden Bridge are tended by the Friends of Hebden Bridge Station.  They are looking for a few more volunteers to join them on the odd Saturday for an hour or two over the coming months.
If you are into planting, weeding and pruning you'd be very welcome. The next garden working party is on 6th April 2013 at 2 pm. for an hour. Then it is 20th April, 4th May, 18th May and so on.
Full details are on the Friends Notice Board at the station.
Why not come along also on Saturday March 23rd when they will be joining in the Big Hebden Bridge Rubbish Clean Up clearing the station approaches and environs from 2 till 4 p.m.
The grouip sent the HebWeb the photo above saying, "Here is a photo of us from a year ago . . . a nice friendly bunch . . . join us . . . the exercise is good."
Contact Bob on 07540 952433 for more information.