Government funding boost for flood-hit communities
Monday, 25 March 2013
Calderdale Council is to receive Government funding to work with local communities to be better prepared for flooding.

Calderdale will benefit from £310,000 funding, to support future flood works in the Upper Calder Valley following devastating flooding in summer 2012.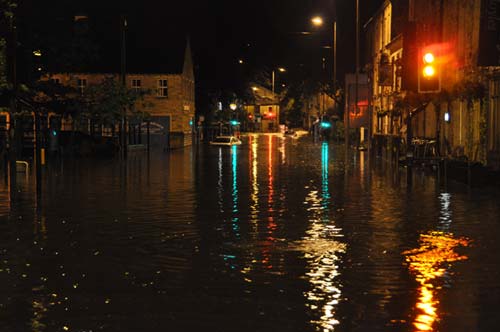 It is one of the largest projects, out of a total of 13 areas receiving awards under a £5m 'Pathfinder' pilot scheme by the Department of Environment, Food and Rural Affairs (DEFRA) aimed at improving community flood resilience. A total of 47 local authorities applied for funding.

The Pathfinder scheme runs over two years, during which time Calderdale Council will continue to develop its flood resilience work across the borough by:
exploring measures to reduce or spread insurance risk
working with businesses, community and business groups to improve flood resilience
helping the Flood Action Groups in Todmorden, Hebden Bridge and Mytholmroyd to support their development and impact of their works
improving the ways in which information is distributed in an emergency
exploring ways of delivering effective local management of the river channels and higher ground to reduce flood risk.
The Leader of Calderdale Council, Cllr Tim Swift, said:

"We are very pleased that this bid has been successful, and I'd like to congratulate the partners who worked so hard to put this bid together, winning support against major competition from other authorities.

"This is an important award which will help us extend the innovative work we have done so far to build community resources to respond to last summer's flooding, and to improve responses in future.

"It's a valuable investment, although we still face major challenges in meeting the sheer scale of the costs the Council has incurred – and will continue to incur – on both emergency repair and longer-term reconstruction work.

"We will continue to lobby the Government with our partners for the long-term investment we need for future flood prevention and reduction schemes."
This bid has been prepared in partnership with the following organisations:
National Flood Forum
Community Foundation for Calderdale
Treesponsibility
Calder Future
Flood Action Groups
Environment Agency
Calderdale Business Connector from Business in the Community
Canal & River Trust