Saturday, 13 April 2013
Commemorative Memorial to those harmed by exposure to Asbestos
Many newcomers to our area may not be aware that hundreds of people in the Hebden Bridge and surrounding district have died from asbestosis and asbestos related cancers, mainly contracted from working at Acre Mill, Old Town, finally demolished in 1979. The fuller story is given in this HebWeb Feature.
This morning a commemorative memorial plaque, to remember those who have died or been harmed by asbestos exposure, was officially unveiled with a ceremony in Pecket Well.
Among those attending were Renata Taylor who was the original Chair of the Asbestosis Action Group, John Pickering, the solicitor who represented so many local victims of asbestos related diseases, David Bell, Chairman of Wadsworth Parish Council, Julie Cockburn who helped develop the idea for the memorial and Rev John Muir, former vicar of Sowerby.
Rev Muir conducted a short service, hoping for a peaceful and pollution free world.
Also present was Claire M whose mum was diagnosed with mesothelioma last year - she had worked at Cape nearly 50 years ago. It was Claire's message to the HebWeb Forum in August 2012 which set off a train of events, leading to today's ceremony.
Several people said a few words including John Pickering who pointed out that if you counted up all the people who had died from working or being involved with Cape Asbestos in Old Town, the local asbestos tragedy was larger than any coal mining accident, and was probably the largest industrial injury accident ever in the UK.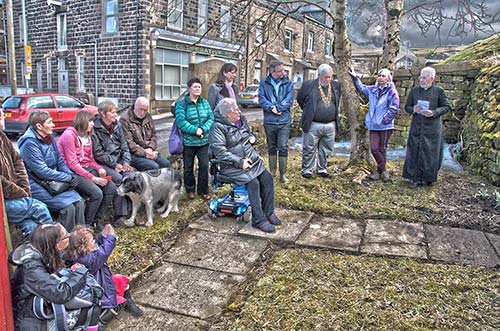 John Pickering reminded us that there are at least 4 dumps of asbestos material in our area, including the one at Pecket Well, just a few yards from the memorial. The council have done their best to landscape over these sites but it should never be forgotten what is still there underneath.
Others paid tribute to the work of the Asbestosis Action Group and those who had worked to make possible this memorial. It was emphasised that many of those who had moved into the area are probably totally unaware of the terrible tragedy which happened on our doorstep, and which must never be forgotten.