Wednesday, 17 April 2013
A Celebration of the Life of John McNair
John Bouttell has sent the HebWeb this story of the celebration of an esteemed educator, champion of the Spanish Language, a founder of the local University of the Third Age and long time Labour Party Activist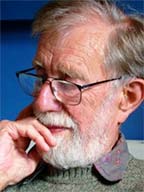 Hugh Neenes presided over a celebration of the life of John McNair at The Central Methodist Church, Todmorden on 11 April. Proceedings opened with members of the Todmorden Choral Society singing Cantique de Jean Racine by Fauré. The first speaker was his son, Stephen, who said that in the days following the death of his father, he was still finding out things about him he didn't know. He gave a brief outline of John's life before reminiscing. He spoke of childhood car journeys in which he and his sister were engaged in conversation by their father and plied with questions, all designed not just to get them thinking, but thinking for themselves. They were taken to church because although John had by this time become a non-believer, he did see church-going as part of his children's education – something they should experience.
Stephen spoke of his father's marriage to Rene, sixty-five years long and one characterised by a real dialogue. He also told of the devoted care John gave her in her final illness, reading poetry to her, talking and playing music. John himself had several bouts of cancer in his lifetime. Losing his bladder to cancer at 65, he became regional secretary of the Urostomy Association, providing support to many fellow sufferers. Cathy Bradley spoke of first meeting John as his nurse in Withington Hospital and then through her own involvement with the UA, eventually becoming its Chair, with the support and encouragement of John.
John spent his life as an educator. He joined Haberdashers' Aske's school and in its present location in Elstree, Hertfordshire, he became head of languages and the sixth form. Among his former pupils were three who went on to prominence: historian Simon Schama, economist Leon Brittan and John Rutherford, emeritus professor of Spanish. John championed the Spanish language and introduced the use of tape recorders and television into language teaching. In 1966 he moved to the education department of Manchester University, where he trained a generation of language teachers.
His former colleague there, Dr Michael Williams, spoke of how he never thought of John being twenty years older than himself. He appreciated John's wisdom and said that he could always turn to him for advice. He told of how John taught his daughters to play the game "Pit", and that they still play the game with their own children. He finished his remarks by saying how his old school motto, "Nothing is as Good as the Best", aptly summed up John's attitude to all he undertook.
John played a major role in setting up Todmorden University of the Third Age and was its first Chair. Alan McDonald was also involved and related how he and John debated the meaning of the word "university". John referred to the original concept and practice – free scholars exchanging knowledge and understanding. Peter Lazlett was invoked: "Those who teach shall also learn and those who learn shall also teach." Alan had a different perspective and he told how John and he would gently tease each other over their differences. These included politics, Alan unsuccessful in trying to persuade John that the Green Party was the best hope for socialism in Britain today. John was still attending the U3A Philosophy Group meetings a few weeks before his death.
Marion Bednall and John, along with Marion's late husband, Jack, set up Todmorden Easy Theatre. Marion said that John believed the theatre to be life-enhancing and that TET should offer a wide range of productions so that theatre-goers had the opportunity to expand their horizons. She appreciated John's wisdom and positive outlook, always looking for new possibilities.
John also recorded for the Talking Newspaper and Doug Simpson related how John's clear diction and pleasant voice was appreciated by those who relied on it for their news. Doug spoke of how John, though unwell, climbed the stairs to the studio at Ferney Lee to record. He was breathless and felt that the subsequent recording was below par. Doug though, declared it to be up to John's usual standard. He presented Stephen with a long-serving certificate that had been prepared for John but had been unable to be presented because John had "got away".
John joined the Labour Party after the war and at 92 was still delivering leaflets. Doreen Langfield campaigned for the party with John for 10 years and remembered wide-ranging discussions with John and Rene at their home. These widened her horizons but were also challenging and she and John had to agree to differ. She became aware of John's practical side when she moved to Lumbutts and John helped her establish her garden. A speaker from the floor told an anecdote of attending a Labour party meeting during the 1997 general election which was addressed by Tony Blair. John boomed "Speak up, boy! We can't hear at the back." Leaving Tony Blair somewhat abashed.
John's neighbour, Howard, was the beneficiary of John and Rene's generous sharing of the fruits of their garden as well as their warm and kind friendship, which he said he will sorely miss. John called Howard one day for help in replacing a spotlight in his kitchen. Howard found John in his kitchen, in his nineties by this time, up the step ladder with the bulb in his hand. "I've been trying for half-an-hour", he told Howard. Howard duly climbed the step ladder and inserted the bulb in seconds. John, however was not satisfied with having the bulb merely replaced. He wanted to be able to do it himself. He made several more attempts before retiring defeated. There he was in his nineties, his seeking spirit still undimmed.
John was a great lover of Bach and the celebration ended with a recording of Glory to God in the Highest, from Bach's B minor Mass.