Tuesday, 30 April 2013
Hebden Bridge WI Rag Market
Summer Arts Competition
Call for entries

Applications are requested for an exhibition taking place as part of the Hebden Bridge WI Sensational Summer Rag Market.
Shortlisted entries will be exhibited in shop windows in Hebden Bridge in July 2013.
The theme of the exhibition is 'Haberdashery' and this can be interpreted through any form of creative art. Most creative art forms will be considered including craft, textile art, sculptures, paintings, photography, print, drawings, jewellery and fashion. Unfortunately we cannot include video or performance art.

The space available in local shop windows to display your finished piece will be no larger than 50cm square so please bear this in mind when choosing your medium and creating your design; small really can be beautiful too!
This Competition is open to anyone over the age of 18 and Alison Bartram, owner of Heart Gallery in Hebden Bridge, is delighted to have been asked to come along and choose an overall winner. This winner will have the opportunity of working with Alison in the future to create either a 'one-off' commission piece for Heart Gallery or a collection of work to showcase. Heart Gallery prides itself on supporting, nurturing and promoting independent artists and craftspeople; particularly local makers.
There are no entry fees for this exhibition but artists are responsible for delivering their own work. The deadline for submissions is 1st June 2013. For more information, or to send images of your work & details of your proposal, please email kirstymhall@gmail.com.
For information on our Rag Market visit our facebook page: Hebden Bridge WI Rag Market


Hebden Bridge WI Rag Market: 13th-14th July
A fun and pocket friendly way to find new and interesting materials for your crafting is to set up or go to a rag market. Hebden Bridge WI do this on an annual basis and the event has been growing over the past few years. This summer the event will again take place over two days in Hebden Bridge Town Hall and is expected to bring in hundreds of crafters from far and wide.

One definition of a Rag Market is a street market where old or second hand clothing is sold, but our Rag Market is far from that! With the current trend for 'make do and mend' the Rag Market is a perfect place for crafters and designer makers to source bargain crafting materials. Many of the fabrics are vintage, one offs and from private collections so you can pick up many items that are not available in the shops for amazing prices. WI Rag Markets have become a very useful outlet for 'out-of- fashion' and surplus stock of some dealers and customers have flocked to enjoy the bargains.

The Sensational Summer Rag Market is the place to grab a bargain on all your favourite haberdashery and craft goods. If you're a crafter, sewer, knitter, crocheter or a vintage lover, this is the place to be. There will be an eclectic selection of stalls selling fabric, buttons, ribbons, yarn, vintage pieces, books and anything else you could possibly need to inspire your creative mind!

The Market is being held at the Hebden Bridge Town Hall on the 13th and 14th July, and includes some special events such as 'Pin Ritual' by local Textile Artist Kirsty Hall. 'Pin Ritual' is a fascinating ongoing art performance which has been performed in a variety of different settings since 2001 and it will be performed during the Rag Market in a quiet corner of the Town Hall.
Prior to the weekend event we will be inviting artists and craftspeople to submit work for an exhibition based on the theme of 'Haberdashery'. Work submitted will be exhibited in local shop windows for the two weeks before the Rag Market. This is to link in with an Open Studios weekend, held by local artists and designers, some of whom are WI members. The exhibition will create a trail around Hebden Bridge, with a list of exhibitors and shops taking part, and the opportunity to vote for 'Peoples favourite' available from the Tourist Information Centre and partaking retailers.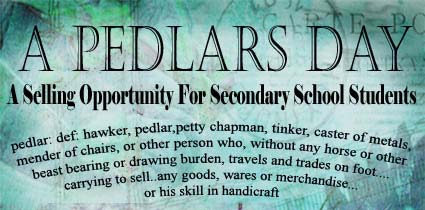 The WI will be also holding a 'Pedlars' Day' on Sunday 14th. Held for the first time last summer, the 'Pedlars' Day' is a student selling opportunity and is aimed at inspiring and encouraging the younger generation to become creative and to bring crafting into a new era. Open to school pupils aged 11-18 this is an opportunity for young people to turn a hobby into an enterprise.......

Young Pedlars won't be judged on the amount they sell, but on their imagination, point of sale, and method of promoting their wares - we are looking for originality! They must be able to easily transport their wares, by barrow or basket, bicycle or on foot, so items for sale cannot be too large or cumbersome. The point of sale must be no larger than, for example, an average household wheelbarrow, if it is to be pushed.
So if you know a student or young person who makes jewellery, bags, clothes or other crafty items to sell, then let them know about the Pedlars day! A Pedlars plot costs £5.
If anyone is interested in attending the Pedlars' Day, they can email Vanessa or alternatively through our Facebook page.
The WI send out a regular Rag Market newsletter to interested parties, and again, anyone wishing to subscribe can contact them on the links above.