Blues Festival nominated again for British Blues Awards
Friday, 3 May 2013
Hebden Bridge Blues Festival has been nominated for the second year running in the "Best Festival" category of the British Blues Awards 2013 by a panel of distinguished industry experts, alongside huge events such as the The Great British Rhythm & Blues Festival and Blues on the Farm.
Festival Director Jason Elliott told the Hebweb "We are absolutely delighted! We are the smallest of the six events shortlisted, but that didn't stop us last year and, with the town's help, it won't stop us this year either.
"National exposure of this kind is not only good for our little festival, we also believe that it is helpful to the town as a whole. After the devastation of the two floods last year, much of the media only referred to Hebden Bridge in terms of doom and gloom. So therefore we were really pleased, that by winning the Best Festival category against all the odds last year, we were able to bring another positive news story to our town."
Blues Festival for Spring Bank Holiday at end of May
Thursday, 2 May 2013
After winning the coveted "Festival of the Year" title at the 2012 British Blues Awards, the organisers of the Hebden Bridge Blues Festival are promising an even greater show when it returns to the town over the Spring Bank Holiday at the end of May.
Spread over three days and seven stages, this year's festival will see over 40 of the very best cutting -edge Blues acts performing for blues connoisseurs from across the UK, as well as good contingent from the local area.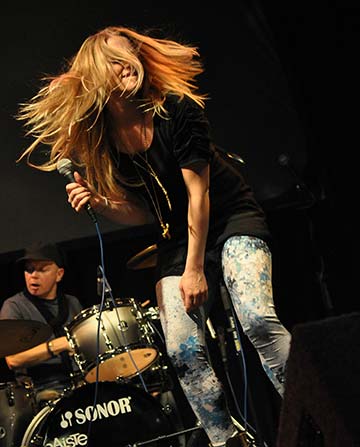 With this year's headliners of Jo Harman, Aynsley Lister, Marcus Bonfanti & Paddy Milner, backed up by Ron Sayer Jr, Kyla Brox and Paul Lamb & The Detroit Breakdown, all performing in a huge Victorian Baptist church, together with many more bands playing in a converted mill and around the town, it looks set to be an incredible experience.
Festival co-director, Jason Elliott told the HebWeb, "The success we had in the British Blues Awards last year really opened our eyes, making us realise that we were tapping into a rich seam of talent and that our little festival was punching way above it's weight. My co-director, Paddy Maguire, and I had just set out to create something to please ourselves really, so we decided on a philosophical approach of only promoting acts that were actually writing, recording new material and actively pushing the Blues forward."
"With over 300 acts vying for only 40 slots this year, and capacity restricted to just 500 in the paying venues, tickets are selling fast," said Jason, "But we don't like to disappoint people so there are another dozen free gigs going on at four more venues around the town for those unlucky enough to miss out on tickets."
More info can be found at www.hebdenblues.co.uk
Previously
HebWeb News: Award-Winning Blues Festival Announces its 2013 Line-up (May 2012)
HebWeb News: Huge Hebden Blues Festival Blows into Town (May 2012)
HebWeb News: Hebden Bridge Blues Festival may be the best in the country
HebWeb News: The Cream of the Blues coming to the Calder Valley next month