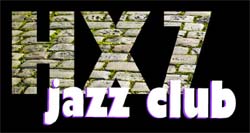 Compassionate Dictatorship
The next and probably final HX7 Jazz night takes place on Thursday May 23rd when Compassionate Dictatorship led by guitarist Jez Franks and saxophonist Tori Freestone will take the stage for what is likely to be the club's last ever monthly concert.
Described as "catching the current wave of Brit Jazz", by Jazzwise Magazine, Compassionate Dictatorship provide another vital example of UK musicians embracing and incorporating both free jazz and rock elements into an edgy, risk-taking musical approach. The playing is muscular but intelligent and the highly original, carefully wrought compositions are immediately rewarding.
The band's co-leader Jez Franks graduated at Leeds College of Music and has gone on to work with Tom Arthurs' 'Centripede', Asaf Sirkis' 'Inner Noise', the Koby Israelite Band, 'Centreline', Henry Lowther, Loz Speyer's 'Timezone' and Gerard Presencer to name but a few of the driving forces of the UK jazz scene.

Leading the band from the front, Tori Freestone also studied at LCM and was a regional finalist of Young Jazz Musician of the Year in 1996. She has played saxes, flutes and violin with the NYJO, Creative Jazz Orchestra, and Andy Sheppard and currently also works with the London Jazz Orchestra, Neil Yates, the Jamil Sheriff Big Band, the Dave Mannington Septet, and the E17 Big Band.

Compassionate Dictatorship's line-up is completed by bassist Dave Mannington and Dave Hamblett on drums. Both are young, dynamic, in-demand musicians on the London contemporary jazz scene, and both compose for and lead their own ensembles as well as working with some of the best jazz players in the UK.

"I think this band absolutely epitomises the highly contemporary and original music HX7 Jazz has been promoting for the last three years", said organiser Dave Nelson. "Although the quality of the music and performances has been at a consistently high level over all that time, the club has unfortunately been unable to remain economically viable: therefore this gig will be HX7's last regular monthly event, although we intend to put on some occasional one-off concerts. I hope everyone who has supported the jazz club will want to come down on the 23rd and make our last night a memorable one!"

HX7 Jazz is held at the Trades Club in Holme Street, Hebden Bridge. Doors open at 7.30pm with live music from at 8pm. Phone the Trades Club on 845265 to book advance tickets which are £12 and £9 concessions.
Previous coverage of HX7 Jazz on the HebWeb