Monday, 3 June 2013
Workers' Co-op takes over Valley Organics in Market Street
Valley Organics, the organic grocers on Market Street, Hebden Bridge, which bounced back with a complete refurbishment after the devastating floods in 2012, will shortly be owned and run by its employees - as a workers' co-operative.
The six strong team, all of whom live within three miles of the shop, is looking to champion locally produced, ethical food and create a happy, friendly place to both work and shop.
One of the team, Sally Hayes told the HebWeb: "The shop has been selling good organic produce and wholefoods for more than 12 years. The current owners, Jackie and Elaine, have done a wonderful job. When they decided to move on, we jumped at the chance to buy this thriving business. 
"Recent research by the Soil Association shows that organic shoppers are abandoning supermarkets in favour of independent shops - and our loyal customers bear this out. The veg box scheme is going from strength to strength, shop sales are on the up and we're looking at stocking new lines. Who thought grocery-shopping could be such fun! People who haven't found us yet should call in - this little shop has so much, and at such competitive prices."
Mike Barrett, one of the new members of the group said: "Workers' co-ops are about a more democratic way of working and about pooling skills, ideas and enthusiasm.  I'm really excited about joining this team. Co-ops are where its at!"
Alex Lawrence, who has worked in the shop for most of its life, said: "We're a bit old-fashioned, in that we want to go on being a friendly, helpful service. Customers tell us about the many exciting food-related projects which thrive in our vibrant community and we want to encourage and promote them as much as we can. We've got some ambitious plans to increase the amount of food produced right here in the Calder Valley."
Valley Organics Workers Co-op Ltd is funded by investment from its members and local supporters and a bank loan from ICOF, Co-operative and Community Finance.
The shop, at 31 Market Street, Hebden Bridge, opens under the new management on Tuesday 4 June, and the workers invite customers old and new to celebrate the new venture on Saturday 8 June. 10-6pm.
Market Street is no stranger to workers' coops. For 20 years from the 1970s, Aurora Wholefoods, also a workers' co-operative, brought wholefoods and organic produce to Hebden Bridge.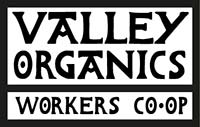 The logo was designed by Co-op member Mike Barrett, who's a graphic designer. The typeface, called Hebden Bridge, is based on a 17th century inscription, cut in stone, on the old bridge in the middle of the town. The typeface was designed by Mike in 2010 to celebrate the bridge's, and by extension the town's, 500th birthday.