Thursday, 27 June 2013
Hebden Royd School Sculpture Trail: Mill to Moorland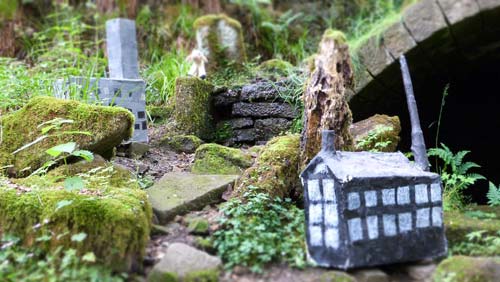 After cancelling last year due to the terrible weather and flooding, the Pupils of Hebden Royd School have once again created artwork for a Sculpture Trail around the base of Lumb Mill Chimney in Colden Clough, Lumb mill was only one of many mills along the length of the Colden Valley.
The theme this year celebrates the Upper Calder Valley, its wildlife, history, landscape and lifestyle and Colden Clough is the perfect place to learn about both the history and nature of the environment in which they live. A beautiful Woodland within easy walking distance from school, the clough is the perfect place to exhibit artwork created during the summer term!

Sculptures on the Trail include a 'Mill Village', cogs & wheels and woven artwork to represent the history of the Valley and our Industrial past, butterflies and colourful animals hiding in and on the trees to remind us of the variety of wildlife living in our Valley, and a Hang Glider Flying over Stoodley Pike along with a cyclist - after all, excitement is already growing for the Tour de France passing through the Valley next year!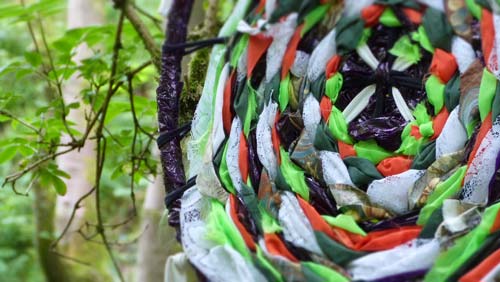 Our Valley wouldn't be the same without sheep and there are some to be spotted grazing around Lumb Mill Chimney, including a very colourful, glittery rainbow Sheep, which could possibly be translated as reflecting the diversity of the Upper Calder Valley, but in reality is colourful and fun because that is what the children wanted! Look carefully past the butterflies and you will spot a beautiful Landscape painting of the valley created by Year 4/5 and inspired by looking at the paintings of Van Gogh, and not far away, a hanging created from prints of textile collage work produced by year 6.

The Trail is free for all to wander through from now until the beginning of September, when the Children will collect the work and leave the Clough to display its own artwork as autumn falls and nature paints us a picture in red and gold.

If you happen upon our Sculptures, please let us know what you think of the artwork!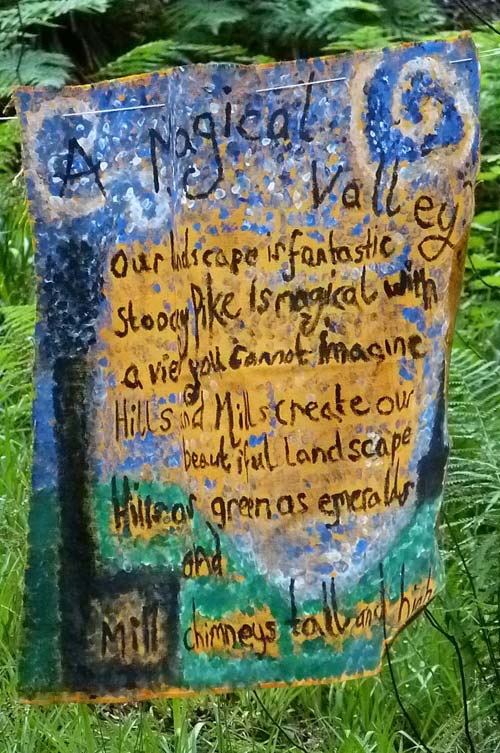 Previously, on the HebWeb
HebWeb News: Sculpture Trail 2011
HebWeb News: Leopard stolen from local children's Sculpture Trail (2010)
HebWeb News: Colden Valley's "Enchanted Forest" (2009)
HebWeb News: A Surreal Sculpture Trail (2007)
HebWeb News: Our Industrial Heritage: A Sculpture Trail