Monday, 8 July 2013
New way-marked walks for Hebden Bridge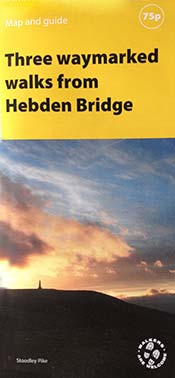 Hebden Bridge Walkers Action has just produced a new leaflet with three way-marked walks.
One goes to Hardcastle Crags with a different route back, one goes to Heptonstall and can be combined with the Village trail and one goes up to Stoodley Pike from the station and back down to Market Street.

The walks are suitable for people with different levels of fitness.  Even if you are an inexperienced walker, you can't get lost because they are well way-marked. The routes have been upgraded and the leaflet provides a map and clear directions.
The leaflet is now available from Calderdale Visitors' centres and the Bookcase and walking shops in Hebden Bridge.
The display boards at the station and Bridgegate car park will be updated in the next week or so.