Fox Friends stall in George's Square
Friday, 19 July 2013
With less than two weeks left to buy shares in the Fox and Goose co-operative pub, cam- paigners will be taking the message out into the community at the weekend.
There will be chance for locals and visitors to meet the team and find out more about the share offer at an information stall in George's Square, Hebden Bridge, on Saturday (July 20) from 11am to 3pm.
Regulars are bidding to buy the well-loved pub in Heptonstall Road - which is facing imminent closure due to the landlady's deteriorating health. They plan to turn it into West Yorkshire's first co-operative pub. The share offer is aiming to raise £130,000 to buy and restore the pub - and already nearly half of the shares have been sold.
Cllr. Dave Young, Chairman of the Fox Friends steering group and one of the founder directors of the society formed to buy the pub, said, "We've now reached a crucial stage in the campaign – the time to hesitate is gone. We need any supporters who've not yet applied for their shares to come forward over the next few days to ensure we don't lose this real community asset.
"If you have any questions, or would like to know more about what we are trying to achieve, just come and have a chat with us at our stall on Saturday. You don't have to be from Hebden Bridge to invest - just someone who loves traditional pubs and cares about protecting our her- itage.
People wanting to apply for shares can visit www.foxandgoose.org or pick up an application form at the bar which enables applicants to pay by cheque.
Fox and Goose: advice session on co-op pub share offer
Thursday, 11 July 2013
People wanting to buy shares in the Fox and Goose Co-operative pub project who do not have access to the internet, or those who simply want to find out more, are invited to go along to an advice session on Sunday (July 14th)
Directors of The Fox and Goose (HebdenBridge) Limited, the community benefit society set up to buy the Fox, will be on hand in the pub from 1pm to 4pm, to answer any questions and help with applications. Anyone planning to invest online on the day should take their bank ac-count details and email address with them. Information on tax benefits will also be available.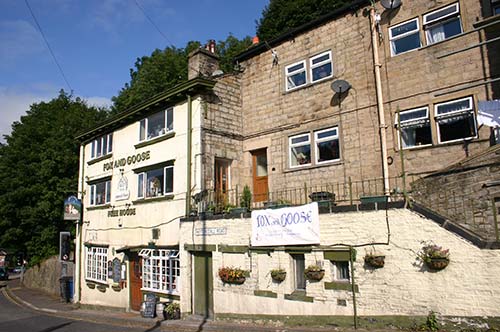 Due to popular demand, a new offline application option has now been added to enable inves-tors to pay for their shares by cheque if they want to. Cheques need to be submitted along with an application form which can be downloaded from www.microgenius.org.uk.
People will also be able to speak to Simon Borkin from the Co-operatives UK Community Shares unit who will be visiting the pub as the Fox Friends' guest.
The society needs to raise £130,000 to buy and spruce up the Fox on Heptonstall Road, Heb-den Bridge, then run it for the benefit of the community as West Yorkshire's first Co-operative pub. Supporters can buy shares from a value of £100 up to a maximum of £20,000.
The share offer was launched on Friday 14th June and already nearly half of the shares have been sold.
Councillor Dave Young chairs the Fox Friends steering group and is one of the four founder-members. He said; "If you have not yet bought your shares because you feel you'd like to know more, or you don't have access to a computer or the internet - or even if you are just un-comfortable with making an online application, please come in on Sunday and someone will answer your questions and guide you through the process.
Please don't leave it until the last minute. We don't want anyone to get left out."
The share offer will run until the end of July, but will close earlier if the target is hit before that. For more information visit www.foxandgoose.org
Previously, on the HebWeb
HebWeb News: Fox and Goose: Share Offer Launched to buy Community Pub (17 June 2013)
HebWeb News: Fox and Goose: Share Offer Launched to buy Community Pub (1 May 2013)
HebWeb News: Fox Friends back Co-operative Pub plans (Sept 2012)
HebWeb News - All aboard for the Fox Friends Beer Bus beano
HebWeb News: Fox Friends Drink to the Dirty Half Dozen (5 April 2012)
HebWeb News: Fox and Goose Pub Co-op
HebWeb Forum: Fox and Goose Pub Co-op (Jan-March 2012)