Thursday, 22 August 2013
Cycle up the Buttress
Up The Buttress is Back! Dare you Take the Challenge?
The success of 'The up the Buttress' timed hill climb event for the last two years has meant that local organisers are keen to stage the event for a third year.
This will be part of the South Pennines Walk and Ride Festival 2013 organised by rural regeneration company Pennine Prospects.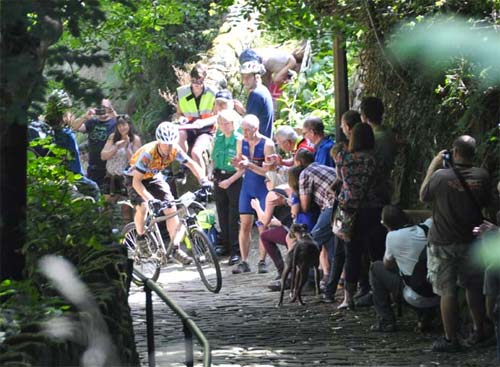 The Buttress is a cobbled incline (it's a one in three gradient in places) out of the market town of Hebden Bridge up towards the medieval village of Heptonstall. It is part of national cycle network route 68.
Not for the unfit or faint hearted, the hardest and steepest 350 metre climb out of Hebden Bridge is set to take place on the Saturday 7th September from 1pm-5pm the event continues to attract lots of interest.
Who will be the fastest, mountain bikers, roadies or cyclocross riders? The challenge has been set. This year the event promises to be bigger and better with the option to take the 'elite' challenge for those wishing to start from the bridge at the bottom of 'The Buttress'.
The event has generated lots of interest from the local bike businesses and several have donated some fantastic prizes; Our very own energy drink suppliers, Yorkshire Tea, are also sponsoring the event. This year there will be a super prize from 'Orange Bikes' which will be a raffle prize so everyone who registers will have a chance of winning.
'Up The Buttress' is organised by expert biking enthusiasts including Bill Brady who leads the Mary Towneley Loop Mountain Bike challenge, Allan Boult from Blazing Saddles, several ride leaders from CTC Calderdale and Calderdale's cycling officer. The event is supported by other local businesses including 'Singletrack' and will undoubtedly allow for an excellent celebration of cycling."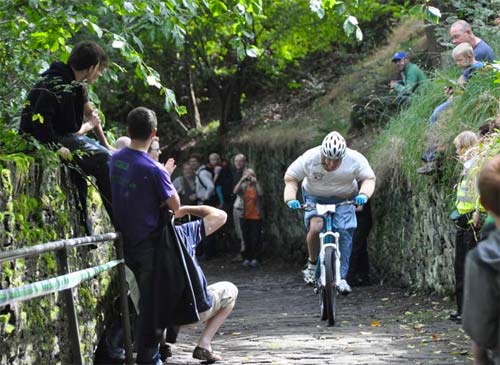 Since the beginning of the South Pennines Walk and Ride Festival biking events in Calderdale have increased significantly because of local enthusiasts coming together. This year Calderdale is hosting more than fifteen events; ranging from mountain biking, road rides including Tour de France route and some amazing cyclo cross challenges which celebrate the cycling opportunities available in this beautiful area.
More information on registering for Up the Buttress will be on www.singletrackworld.com soon or simply turn up on the day and register at the desk before 1pm at the bottom of the Buttress on Hanging Royd Lane on Saturday 7th September.
For other events in Calderdale and along the South Pennines, have a look at the Walk and Ride Festival. The festival takes place from 7th to the 22nd September and there is something for all abilities.