Wednesday, 28 August 2013
The 'Back Door' at Northlight Art Studios - an art studio for the community!
After it's Summer break, courses and day workshops kick off again in September for another exciting year of creativity at the Back Door space, Northlight Art Studios.
This thriving and accessible project supports and promotes practice in the visual arts and crafts for those just starting out to experienced professionals. There has been a diminishing opportunity to access practical art and crafts courses in the area in recent years. The closure of the Adult Education Centre in Hebden Bridge and now the departure of most Art and Design courses at Todmorden College have left Northlight Art Studios as the first choice for those wanting to develop their creative side!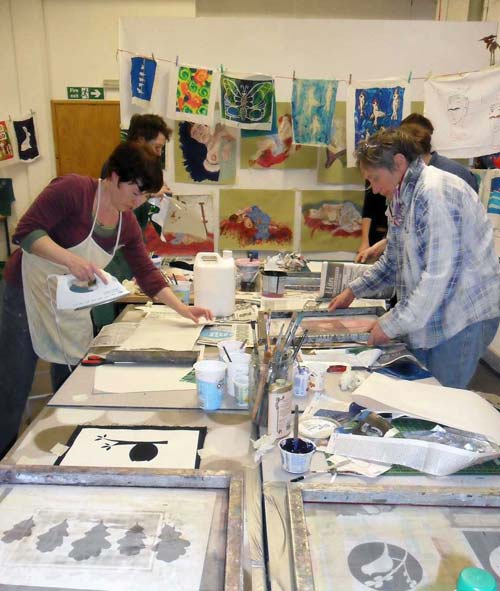 Over the last four years, Northlight has developed a consistently engaging programme of art and craft related classes and workshops with its flagship 'Art for the Terrified' class, still as popular as ever. As one student says: "I've been coming to the Art for the Terrified class for a year now. It is without doubt the best thing I've ever done. I was so fearful when I first turned up, and now it is a highlight of my week, and I can't wait to get cracking, to get myself covered in paint and to revel in the sheer sensual pleasure of painting"

If you want to find out just how terrified you are, there's an Art for the Terrified taster day workshop on Saturday 7th September led by new Back Door tutor Tina Foran.
With small groups and plenty of attention, courses are open to people of all ages and abilities. Classes are relaxed and unthreatening with a 'no nonsense' approach emphasising learning for the love of learning. The Back Door space offers wheelchair access and several wheelchair users currently access courses.
There is now a considerable range of regular weekly courses on offer covering painting, drawing, mixed media, printmaking, oil painting, life drawing, textiles and ceramics. Teaming up with Calderdale Adult Learning has enabled them to offer an extensive programme of weekend day workshops that tackle more specialist pursuits such as life painting, lino printing, textile printing, machine embroidery, digital photography, colour theory and bookbinding.
The Back Door project has attracted well known artists from across the region to run workshops, including portrait painter Thomas Rimmington, Islamic design specialist Eric Broug, master lino printmaker Ruth Fettis and Sculptor Sally Barker.
September sees the start of a new year of creative education with an even more comprehensive programme and some new additions.
The Autumn term starts on 16th September with an enrolment / finding out day on Weds 11th September (2-8pm). New for this term are the 'Drawing Concerns' evening class with James Fearon that will tackle drawing in broad terms including some life drawing; a new 'Creative Textiles' evening class with textile artist Sally Darlington and 'Cutting Edge' - making idiosyncratic paper crafts with Lizzie and Louise Lockhart. These new classes will run alongside the existing Art for the Terrified and Less Terrified classes, The Art Toolkit, Oil Painting and Ceramics Workshop courses.
The extensive day workshop programme will include new drawing days led by well-known regional artists. These days will focus on very diverse approaches to drawing and will connect with the artist's own work. In the Autumn Term, illustrator Simon Manfield will lead a Classical Figure Drawing day and painter Petra McCarthy will lead a fascinating experimental drawing day based on maps and mapping. Also programmed for this term are colour, batik, mosaic, textile printing, lino printing and willow sculpture workshops.
The education co-ordinator is Don Myers who is also a practising painter and teacher. He has told the HebWeb, "The Back Door has now become an established part of the community adult education offer for this area with over 300 people accessing our courses last year. We are now getting people travelling from across the country for our weekend workshops – very much driven by the reputation of Hebden Bridge as a centre of excellence for the Arts. Our courses are great fun but also challenging and taught by really excellent, practicing artists, and our students keep on coming back for more!"
To find out more or to book your place visit www.northlightstudio.co.uk
Email or phone 01422 843519