Tuesday, 17 September 2013
Buses: Labour candidate takes bus boss for a ride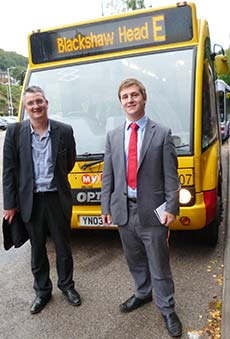 Labour's Parliamentary candidate for Calder Valley, Josh Fenton-Glynn, has highlighted public concerns at cuts to local bus routes and the prospect of smaller buses being used on several routes by taking the boss of West Yorkshire's Transport Authority for a ride on one of the services set to be affected.

Josh Fenton-Glynn invited James Lewis, chair of West Yorkshire Integrated Transport Authority, to join him for a journey on the busy 16:08 Blackshaw Head bus to listen to the concerns and anger of regular passengers.
The route is one of those seeing the size of bus used reduced, despite the fact it'll have to cope with more passengers because the 591 and 593 services – which serve the same communities – are being cut altogether.
There are fears that there will be inadequate room on the buses being downsized from the current capacity of 49 to just 16, and that access for disabled people, mums with children and elderly people will be compromised.

Labour candidate for Calder Valley, Josh Fenton-Glynn, told the HebWeb, "I invited James Lewis to join me in taking this trip to highlight to the Transport Authority that this is an important and valued service for keeping our community connected.

"These bus services are a vital lifeline for many in the valley, we need to keep services running and make sure they are of an adequate size, as well as being accessible to all.

"I'm pleased passengers have shared their experiences with James and I. It has helped to get the message across that, for a community like ours, reliable bus services are essential."

Duncan Watson, a member of the Hebden Bridge Action Group which is campaigning to protect the local bus services said, "It's encouraging to see James Lewis riding one of the routes affected by the proposals to see firsthand how the reduced bus sizes will not be able to adequately serve the communities around Hebden Bridge and Mytholmroyd. Under the current proposals bus users would be left waiting for an hour or more at busy times unable to get on the buses which would be reduced from their current capacity of 49 to just 16."

James Lewis said, "It's been a great opportunity to come out and see these services in action. I have taken home that Hebden Bridge and Todmorden have some very specific issues when it comes to bus transport and I'm glad Josh invited me here to see it firsthand."

Passenger Pete Russ who runs Mytholm Court Sheltered housing said, "The proposed changes would see elderly people confined to their housing and represents a fundamental threat to the quality of life to our residents."
Previously, on the HebWeb
HebWeb News: Hebden Bridger Action Group formed following public meeting 15 August 2013
HebWeb Forum: Metro Bus Service Consultation July-August 2013
HebWeb Forum: Proposed Bus Changes (April-May 2013)
HebWeb Forum: Bus problems, again (Nov 2012 - Feb 2013)
HebWeb News: Hebden Bridge Bus Services Consultation, over proposed changes from April 2013
HebWeb Forum: Hebden Bridger bus problems again! (February-September 2012 - 139 messages)