Riverside parents boogie to fund poet
Parents from Riverside School strutted their funky stuff to the sounds of the '60s raising more than £500 to help fund a poet in residence.
The Friends of Riverside School coaxed top local DJ Red Helen out of semi-retirement to spin the discs at the Trades club on a night of classic mod, soul and Motown dubbed 'Nutclough City Limits' that was also a chance for parents to celebrate the school coming out of special measures.
Friends Co - Chair Rebecca Yorke said: "We were delighted at the way the parents and community rallied round after some tough times at school and we raised way more than we ever thought possible - some of which will go towards funding a Poet in Residence for the school.
"It was brilliant to see everyone coming together to celebrate our recent good news and although Helen is well known locally as owner of Ribbon Circus she used to DJ at some of the best clubs in the North so really worked the room. The Trades is across the road so it was the obvious venue and we would like to thank all their staff for their support on the night."
'Nutclough City Limits' was of one of a series of fundraisers hosted by the Trades who are always keen to support a school that teaches many of their members' children.

Trades Club Ents Manager Mal Campbell said: "Riverside are our neighbours and we were only too glad to help because we know the enormous work that has been done to make it a community school. The Trades is a community club so it seemed a good fit and the Riverside parents are a crowd who certainly know how to have a good time."
Wednesday, 25 September 2013
Nutclough City Limits: Friends of Riverside Benefit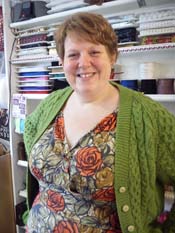 Friday 4 October is the night to head down to Holme Street for a night of 60s mod, soul, R 'n' B and Motown.
The Friends of Riverside School (FORS) have teamed up with the Trades Club and DJ Red Helen to present 'Nutclough City Limits' to raise funds for the school.
DJ Red Helen (pictured right) is known to many as the crafty owner of Ribbon Circus in Albert Street, but few of her customers know she used to dj regularly at Brighton Beach club nights in Leeds, Sheffield and Newcastle.
"I've wanted to dj in Hebden for ages", said Helen. "It's going to be a great night".
Rebecca Yorke of FORS said: "Riverside is at the heart of the Hebden Bridge community and the Trades Club is one of our neighbours. Events like this are a great way for parents and friends to enjoy a night out while raising money for the school".
Tickets cost £6 on the night or £5 in advance and are available from the Trades Club and Ribbon Circus.