Tuesday, 8 October 2013
Hebden Bridge Station: poems while you wait
Catching a train? Then enjoy the new series of poems posted on the Friends of HB Railway Station notice boards.
In an arrangement with Sarah Corbett, who arranges the poetry readings at the BookCase the Friends will be posting each month a new poem crafted by a local poet.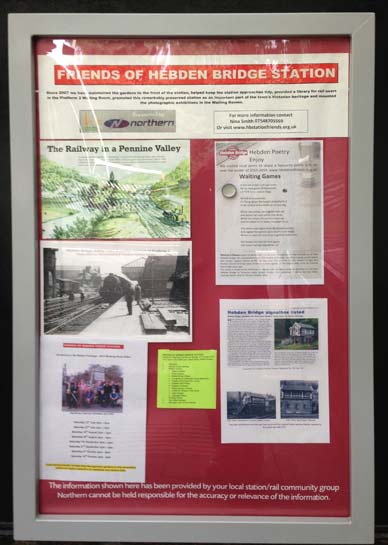 The first one is Waiting Games by Winston H.Plowes who writes his words with his cat on a narrowboat on the canal. He has been Pop up Poet for the Hebden Bridge Arts Festival.
This poem is based on his memories of regular train journeys taking his daughter to from Hebden Bridge to Somerset every school holiday.
The free poetry joins the free library and free historic exhibition provided by the Friends out of love of the old station.