Monday, 14 October 2013
Hebden Bridge people make money do good, according to report on positive investing.
HebWeb receives special mention
Hebden Bridge people are among the most ethical in the UK when it comes to investing their money, according to a new report published this week.
Three out of the top 10 positive investment hotspots are in Yorkshire. Calder Valley is included in Hotspot No 3 which covers a swathe of West Yorkshire and the gateway to the Yorkshire Dales.
Positive Investing in the United Kingdom is unveiled to coincide with National Ethical Investment Week - coordinated by UK Sustainable Investment and Finance Association (UKSIF).
It reveals that a new breed of 'positive investor' is revolutionising the funding of social and environmental businesses. Over 1 million investments, mainly between £100 and £500, have helped raise £1.6 billion, thanks to a growing public interest in investments that 'do good' and offer a financial return.
The report is produced by Ethex, the UK's first online exchange for positive investments. It identifies the country's top ten hotspots for ethical investment and the profile of pioneer positive investors.
It examined nearly 50,000 positive investments by postcode and local authority wards, to reveal where these investors live, what they invest in and why. Yorkshire emerged as a key player, displaying nearly all the characteristics identified. The No 3 Hotspot takes in Calder, Todmorden and Luddendenfoot wards.
Common characteristics across all hotspots tend to be an interest in fair trade, renewable energy, poverty alleviation, organic farming, community shops and pubs, sustainable forestry, green transport, organic food and farming and social property.
The report says: "All the hotspots 'demonstrate a commitment to independent thinking and ethical living. Hebden Bridge was one of the first towns to set up a community website in the UK."
The research revealed that over a million investments and savings of relatively small sums have been made in businesses, social enterprises, credit unions and community share offers that give people the chance to invest directly in issues that they care about.
So, it is no surprise that one of the pockets is in Hebden Bridge and the Calder Valley which are well-known for their green credentials and community spirit. There has been a raft of community share issues in the area.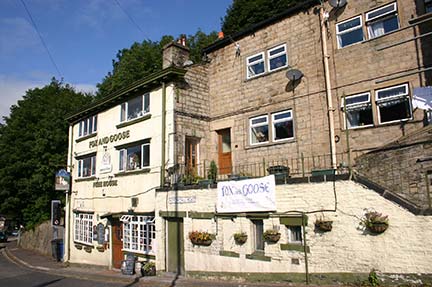 Successful community share issues include the Fox and Goose, in Hebden Bridge, where regulars have just raised £130,000 to buy their Local and create West Yorkshire's first co-operative pub, investing anything from £100 to three-figure sums to hit the target.
Calder Ward Councillor Dave Young is a Director of the Fox and Goose Industrial and Provident Society set up to buy the pub, as well as being a Hebden Royd Town Councillor. He said, "The Calder Valley has a long history of community action and a rich industrial and rural heritage, so it's no surprise to me that we're a hotspot for positive investment.
"This area is well-known for its community spirit, as we witnessed with the Fox and Goose community share offer, where people rallied round in their hundreds to help save a well-loved community asset while investing in a good business proposition at the same time.
"Calder Valley people have always displayed a particularly strong sense of ethics and an independent attitude to finance - they work together to make sure that money is channelled in a way that does good for their local community and also further afield."
Incredible Edible Mytholm has an ambitious, £4.9m five year plan to set up as a community benefit society and development trust to create an eco- attraction on a key brownfield site in Hebden Bridge. The aim is to stimulate ideas and action about how to create a sustainable food system, move to a low carbon economy, and make the world a better place.
Jenny Shepherd of IEM said, "The eco-attraction will connect local people and visitors with nature, food, and zero carbon, zero waste systems in exciting ways – offering loads of opportunities for enjoyable learning through outdoor and hands-on activities for everyone, and bringing out the mad inventor in people."
Pennine Community Power, a community-owned and financed renewable energy infrastructure in the Calder Valley promotes the supply of renewable energy and used a community share issue to install a 10kW wind turbine in Blackshaw Head.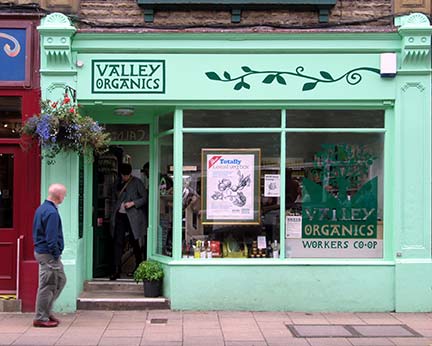 Hebden Bridge also boasts numerous organic, locally-sourced vegetarian eateries and independent eco-friendly shops – including specialist grocers Valley Organics – which became a workers' co-operative in June.
The other two Yorkshire hotspots cover parts of Leeds and Sheffield. The cities which feature tend to be those famous for arts and film festivals. Education was found to be more of a factor than wealth, with clusters emerging around universities.
Like its big city neighbours the Calder Valley also has a vibrant creative community and holds numerous well-supported arts and cultural festivals including the annual Hebden Bridge Arts Festival which attracts thousands of visitors each year.
Ethex is a not-for-profit online web portal, launched in January 2013 as a platform for positive investing. It aims to bring together the full range of positive businesses, making it easy for people to find, compare and choose investments that meet their social, environmental and financial objectives. There are now 30 investment products on the site, 1100 investors have signed up, and £610,000 has been invested in the first seven months.
Jamie Hartzell, founder and managing director of Ethex, said: "Calder Valley people have a reputation for being highly ethical and environmentally aware. They care deeply about what is done with their money and want to see it being used to do good.
"Like numerous people all over the UK, they are highly motivated to invest their savings where they will make money and bring positive social and environmental benefits. Society needs more positive investment. It's a new model of business and we should be supporting the companies leading the way."
"People now expect more from their money. They have lost trust in the banks and money managers. They are looking for ways to invest directly, as evidenced by the rapid growth of crowd-funding, and positive investment allows people to invest direct into businesses they trust. For many people, this means being confident that their direct investment is making the world a better place, at the same time as generating a financial return."
See also
Hebden Bridge - a hotspot for ethical investments: See Guardian article (12 Oct)
HebWeb News: Hebden Bridge: the coolest place to live in Britain (March 2013)
In 2005, the HebWeb reported that Hebden Bridge was the 4th funkiest town in the world (May 2005) and in the same year it was declared the UK town with most local identity.

In November 2010, Hebden Bridge won the 'Great Town Award' given by The Academy of Urbanism. Barnsley Bard Ian McMillan wrote a poem about Hebden Bridge for the award ceremony.