Tuesday, 15 October 2013
Postcard from Palestine 11 - A Day with Ta'ayush
Hebden Bridge's Ron Taylor is a regular visitor to Palestine, part of an international movement of supporters.

Postcard dated: Saturday 12th October 2013
The Ta'ayush bus and pick-up truck leave Jerusalem at 7am.,fourteen Israelis and a Dane aboard .A quarter of an hour and 10 kilometres later we are picked up near Bethlehem at 6.15am .For several weeks there will be a time difference of one hour between Israeli and the West Bank time. The joke, according to one of the Israelis, is that Israel moved the clocks forward but didn't bother to tell the Palestinians. Maybe it is not really a joke. By the time we reach Hebron we are 18 in all - a young Palestinian boarded the bus along the way.
This is Ta'ayush - the Arab/Jewish partnership - on its way to the South Hebron Hills, as it does every Saturday. Most of us only know that today we will see Palestinian farmers, Israeli soldiers and Jewish settlers ; beyond that we don't know what is in store.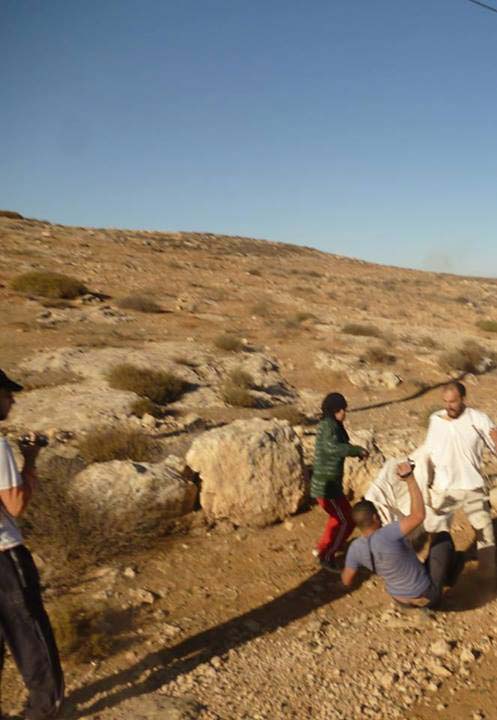 A half hour later the bus comes to a halt. Eight of us are dropped by the roadside close to Otniel settlement. The bus heads south. We form two groups of four, head up the valley where shepherds and their flocks will meet us. They will come from different directions and from different villages, hence the need for the two groups. Settlers and the Israeli military have made access to these grazing areas almost impossible in recent years even though the land is owned by Palestinians. But lawyers for the owners have extracted an agreement from the IDF that access will be allowed. Ta'ayush's presence today is needed to see if the agreement holds - there are no guarantees in these parts.
Thankfully the morning passes without incident. An Israeli jeep and an armoured car are on the scene within minutes but the soldiers only watch as we make our way up the valley and 3 hours later back down again. The vehicles move from time to time so we are not out of their sight. Otherwise they watch us and we watch them whilst the sheep chomp away at the scrubby, prickly vegetation. It is hard to believe they can survive on it. 'Our'shepherd and a young man on a donkey tend the flock, keeping the sheep from straying too close to the settlement boundary fence.
The calm of this rural scene is only disturbed by the sudden presence of a largish animal, followed by another. We decide they are jackals. They are very interested in the sheep. The shepherds thinks they were responsible for the loss of several lambs earlier in the year. We take photos; even one of the soldiers comes down to have look., bored perhaps with lolling against a jeep. The jackals eventually lose interest or hope and lope away.
By now it is late morning. The shepherd is ready for home. He thanks us for our presence today, bids farewell then ushers his flock up the valley side back to his village. We meander back along a stony path towards the road. One activist spies a snake between some rocks. From now on we tread with greater care until we reach the olive grove. The other group of four is not far behind us and by the time the bus returns we are all back to our starting point.
Now we head south again to rejoin the rest of Ta'ayush. We meet at Susia, a Palestine village that has struggled for survival for decades and is now in danger of being wiped off the map. The IDF wants to demolish almost all the structures there including its school - built without permits, it says, even though permits are impossible to get. There is an ongoing court case which will decide Susia's fate.
Our fellow activists have not had a quiet morning. One group accompanied Susia farmers to their olive groves and were set upon by a settler. He caused light injuries to three people before being chased away. Another group has been to the tiny hamlet of Um-al-Arayes which is unfortunately close to the notorious outpost of Mitzpe Yair, the lair of some of the most violent, racist settlers in southern part of the West Bank.
For some time settlers and the IDF have prevented farmers from ploughing land near the outpost and have stolen much of it.. Documents make it clear the land is privately-owned by Palestinians but the IDF has declared the area a closed military zone saying the land is 'disputed'. Each week the farmers and their families come to work the land accompanied by Ta'ayush, each week they are denied - often by force. Today, we discover, the settlers attacked the Palestinians as they tried to use their land and the soldiers, as usual, did little to stop them. Next week and the week after the farmers will return, as will Ta'ayush.
All aboard our transport again there is, we are told, one final task for Ta'ayush today. We head further into the hills to the outpost of Avigail. Just before the guarded boundary fence we disembark and head quickly down a rocky slope before we can be intercepted by the dozen or so soldiers who have noted our presence.
"Why are we here ?", I ask Amiel, our gentle but tenacious co-ordinator.
"The settlers have recently made a rough track down here," he explains, "so it could be they are starting some new construction. We need to take a look and we need them to know that we are looking."
Below us the track peters out. There are no obvious signs of any building work but the situation will continued to be monitored. From here we can also see three small ploughed terraces - Palestinian land. The terrace closest to Avigail has been fenced off by settlers intent on stealing it. A few dozen metres up from here we can see settlers enjoying Shabbath by a pool built by a spring once used by Palestinians to water their flocks and their land. It is now off limits to them, stolen.
We trudge back up slope towards our transport. The soldiers are now in place but do nothing as we head past them. They look on morosely (they don't like their Shabbath to be disturbed) as we board the bus and move slowly away.
Before we head back towards Jerusalem there is something else in store. An unusual event is happening in the nearby village of Mufakara, another place the military would like to see disappear. Next to the remains of the mosque which was flattened by Israel bulldozers last year stands a large tent. Palestinians, Israelis and internationals are milling around, a film is being made music blares from loudspeakers.
Today Mufakara has important guests - two Italians. One took part 30 years ago in the kidnap of the former Italian Prime Minister Aldo Moro, the other is the son of a driver who has shot dead that day by the Red Brigades. Together they are touring Israel and Palestine with their message of peace and reconciliation. Remarkable. But as the people of Mufakara become seated and the speeches begin, Ta'yush must head back north.

Ron Taylor