Riverside parents flock to Chagall show
Wednesday, 13 November 2013
Parents at Riverside Junior School flocked to a show of their children's work inspired by the legendary surrealist artist, Marc Chagall.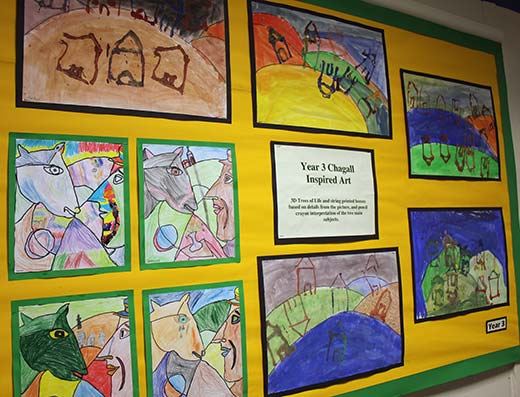 Each of the school's six classes produced original works based on Chagall's distinctive style, investigating different curriculum areas including RE, History and Geography, before throwing open the doors for parents to tour the exhibition helped by junior guides from the school using specially commissioned and designed programmes.
Riverside Headteacher, Val Eggleton, said: "This is becoming a regular feature of our September curriculum and the original idea is from The National Gallery's 'Take One Picture' project which Riverside have adapted and made their own! Every class has produced such high quality work we felt we had to let parents see it. As always our parents were brilliant coming round to see the work and discussing it with our junior guides who had volunteered to help out."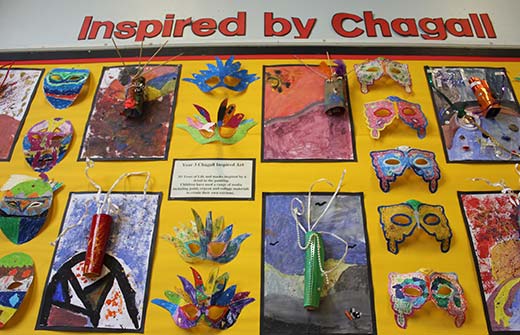 The centrepiece of the show was a mini cardboard Hebden Bridge full of quirky houses that the mini-Chagalls thought might look good in the town.
"You wouldn't want to live in some of them as the gales that batter the valley from time to time would have blown them over ," laughs Val. "But it was astonishing the detail in some of the houses that would give our urban planners plenty of food for thought and a couple even came complete with plastIcine cats."
Parents and children from Stubbings and Central St Infant Schools also visited the Riverside exhibition.