Lamplighter Festival A Shining Success
Monday, 25 November 2013
The Lamplighter Festival dazzled Todmorden with a stunning illuminated parade enjoyed by thousands of spectators on Saturday evening.
More than 250 people, who had made lanterns at open workshops run by Handmade Parade in Todmorden and Hebden Bridge, took part in the parade which wound its way from lever Street, through the town centre and back down to Pollination Street. They were joined by four illuminated street bands, belly dancers and fire performers.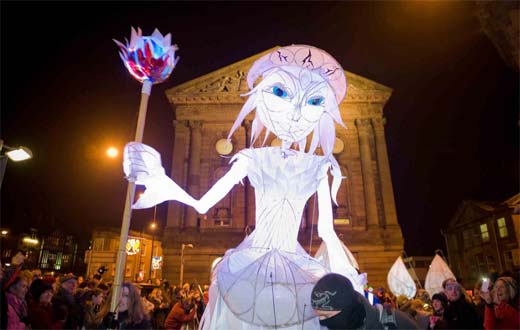 Local bands Handmade Samba Band, Northern Lights Street Orchestra, Mr Wilson's Second Liners, Skiband and Stilt Batteristas got plenty of toes-tapping and the crowds were thrilled by the stunning illuminated puppets, lanterns and art work created by Handmade Parade and the illuminated installations on the canal from Spacecadets.
The parade culminated in a Lamplighter Ceremony at Pollination Street where the giant lady of the lamp created by Handmade Parade artist Kerith Ogden, brought cheers from the crowds.
There was further entertainment during the evening from Walk The Plank, who created the fire installations on Pollination Street, Todmorden Belly Dance, DJ Mungo Nation and Glow Poi Spinners, students from Todmorden High School who showed off their skills after a six week workshop with fire performers Flame Oz.
The mysterious Jellish - an illuminated bloom of Jellyfish from Thingumajig Theatre, also wowed spectators with its spectacular expeditions around town.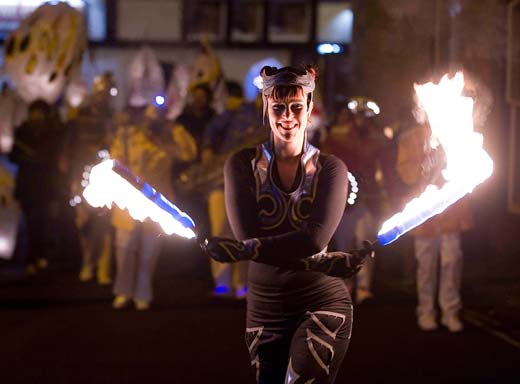 Todmorden market stayed open late and the bands provided strolling performances for those enjoying the festival atmosphere.
Hannah Merriman, Handmade Parade Co-ordinator told the HebWeb, "This event has been an amazing example of a wide community of people offering their own time and effort to make something really special happen.
"We are particularly grateful to Mike Hall, Shirley Fielder, Marjorie and Michael Kirke and Jack Cryer from UCCA who kept the entire team fed and watered throughout the day, Mary, Pam and their wonderful team from the ever-supportive Incredible Edible, Peter Brennan and John Walker from Calderdale markets who organised everything to do with the night market and our amazing team of volunteers who got there early, stayed late and who made the whole thing possible. In particular: Linda Sayer, Sue Gallie Hall, Graham Hall, Alan Flying Pig man, Dean Johns, Elaine Smith, Kevin and Penny Stokes, Pam Finch, Judy Audaer, Rachel Johns and the most wonderful Drew Payne".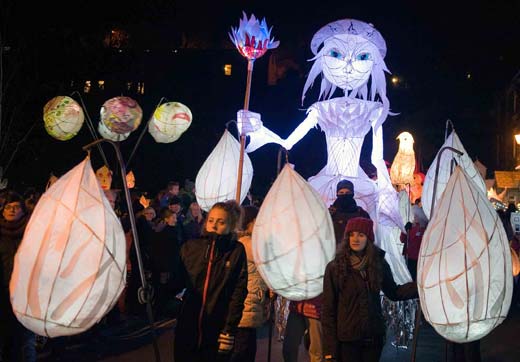 The Lamplighter Festival followed on from the success of Valley of Lights last year and the organisers hope it will become a regular fixture on the calendar. The festival was supported by funding from Todmorden Town Council and Calderdale Council.
See also:
YouTube - Todmorden Lamplighter Festival Parade from Jan Bridget
HebWeb News: Lamplighter Festival this Saturday (20 Nov 2013)
HebWeb News: Lamplighter Festival (29 Oct 2013)