Update - sold out
Friday, 20 December 2013
Dave Nelson's annual Family Christmas Singalong
Tuesday, 26 November 2013
Christmas gets off to a cracker of a start at 4.30 pm on Saturday 21st December at Hebden Bridge Town Hall with Dave Nelson's annual Family Christmas Singalong.
The event, a fixture in the town's festive calendar for more than 20 years, is a delightfully old-fashioned 'round the piano' opportunity to sing along to all those favourite Christmas songs and carols.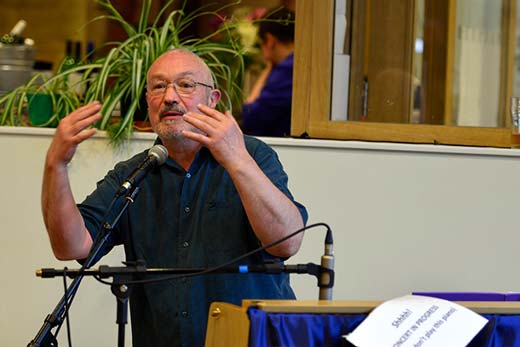 "It all started back in the days of the Nutclough pub. I used to play piano there every Friday night and the landlady asked me to play piano for a Christmas singalong way back in the early 90s," the Hebden Bridge pianist and composer told the HebWeb.
"It was always great fun, although once the pub closed, it became a less regular event. A few years ago we started it up again and this year we are delighted to be able to hold the party right in the middle of Hebden Bridge at the fully accessible Town Hall."
The event is being run in partnership with the Town Hall, and will raise funds for next year's Hebden Bridge Piano Festival, which Dave founded and directs. "We're staging plenty of free and family events during the festival, so there's a need to raise money to help cover the cost of those, "continued Dave. "It seemed really appropriate to combine forces with our great supporters at The Town Hall and make the Christmas Singalong bigger and better than ever!"
Also performing are vocal groups Alyssium, with some up-tempo extracts from Britten's Ceremony of Carols, and Wainsgate Waits who perform four-part medieval carols plus unusual arrangements of some well-known ones. Mainly though it's all about the party-goers getting together on the Winter Solstice and singing along with gusto to welcome in the festive season.
There'll be mince pies, mulled wine and plenty of Christmas cheer. As one of last year's happy singalongers said, 'Christmas starts here; this is what it's all about'
Tickets are £8/£6/£2 (18 and under) and are available from The Town Hall reception area weekdays from 10-4 from Monday 2nd December. They are also available online