New Spring Term of Creative courses and big news from Northlight
Monday, 9 December 2013
There are some major new developments happening at 'Northlight Art Education' - the new name for the Back Door Education project at Northlight Art Studios on Valley Road.
The success of the project continues with the launch of its Spring Term programme of innovative art and craft courses and workshops starting on January 13th. Significant developments are the creation of a dedicated ceramics space, the expansion into a new teaching space at Artsmill and the introduction of new courses in Stained Glass, Life Drawing and Ceramics.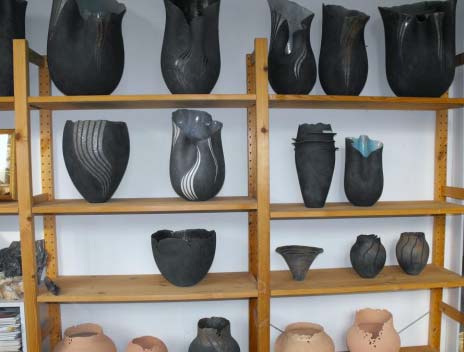 Ceramics workshops at Northlight have been a growth area with few other facilities now available in the area. Grants from Hebden Royd Town Council have enabled Northlight - a not for profit cooperative - to develop a specialist room with kiln and drying facilities as well as maintaining their conviction to work with students with special needs. A new Ceramics Evening Class, taught by artist and designer Katch Skinner will start in January!
"We are very proud of the inclusive nature of our ceramics courses", coordinator Don Myers told the HebWeb. He adds, "These courses attract a real cross section of experience and ability including some students with learning disabilities. Their success is down to the mutually supportive environment, the funding of a support worker from HRTC and of course, excellent teaching."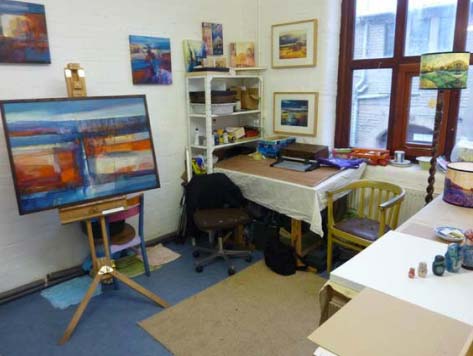 Also new for January is a Creative Stained Glass evening class. Northlight are now lucky to have Karl Theobald as a member of the studio cooperative. Karl is a master stained glass craftsman who works on specialist restoration commissions as well as making his own imaginative and vibrant window designs. His new Monday evening class will teach all the technical basics of stained glass and will enable students to work on their own projects. So if you have ambitions for a unique fanlight above the front door . . . this is the place to come!
As the number of courses at Northlight has increased, so too has the pressure on their Back Door teaching space. However, an exciting opportunity to make use of newly developed space at Artsmill just round the corner on Linden Roadd has been seized! This lovely light space will house Mary Loney's ever popular Oil Painting workshops. Life Drawing will also take place at Artsmill with Simon Manfield's regular Monday morning drop in workshop and a new 'Introduction to Life Drawing' evening class on a Tuesday . Simon Manfield is a well-known artist and illustrator and is the life drawing tutor at Bradford University. With the flexibility of two teaching sites, Northlight intend to add further courses to further broaden its programme.
Other regular courses continue for the 10 week Spring term including 'The Cutting Edge' - Lizzie and Louise Lockhart's idiosyncratic take on paper crafts that complements their inspirational sell out taster course. Art for the Terrified, The Art Toolkit and Creative Textiles classes will all build on this term's work but are open to newcomers.
The Day Workshop programme, taking place at weekends also continues with more Drawing Days, Digital Photography, Bookbinding, Textile Printing, Oil Painting, Embroidery and a Sculpture Weekend. These workshops are ideal for those who cannot make a regular weekly course.
To book a place, check on availability or to find out more visit www.northlightstudio.co.uk or phone 01422 843519