Capturing the fabric of the South Pennines
Thursday, 19 December 2013
Residents and crafters from across the South Pennines have come together to create a stunning collaborative piece of art which captures the true fabric of the area.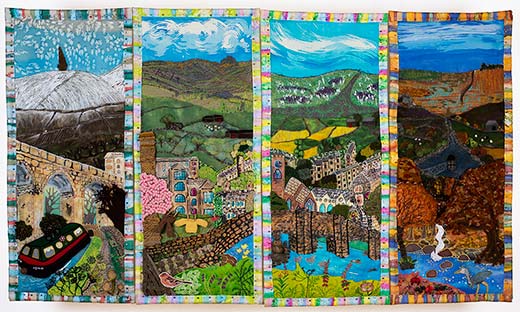 The 'Textile Tales' project, commissioned by rural regeneration agency Pennine Prospects for its 'local distinctiveness' campaign, saw artists working with residents in Hebden Bridge, Haworth, Holmfirth, Marsden, Saddleworth and Rochdale to create a colourful fabric artwork, which is almost two metres wide.
Heather strewn hills and moorland, millstone grit, chimney stacks and a twite are among the characteristic features and local scenes depicted in the work, which took more than six weeks to make.
A variety of techniques were used to create the piece, including embroidery, felting, knitting, wax batik, silk painting and crochet.
Lead artist Jude Wadley, who is based in Hebden Bridge, said,  "This was a real labour of love, with lots of local people coming together to bring the work to life.
"Textiles have always been strongly represented in the South Pennines, so this piece is shot through with the character of the area. We're hoping it will be enjoyed by local residents and visitors alike, and encourage even more people to explore this fantastic part of the world."
Pennine Prospects commissioned the work as part of its 'local distinctiveness' project which aims to raise awareness of the unique characteristics of the South Pennines' landscape, people and places, in order to encourage visitors to stay longer and spend more.
Rebecca Yorke from the South Pennines Local Distinctiveness project told the HebWeb, "The professional artists and their willing army of volunteers from across the area have done an amazing job. Everyone involved has paid real attention to detail. The final piece is stunning.
"We're now looking forward to taking the artwork on a tour of the area, so that visitors and communities can draw pride and inspiration from it, and celebrate the creativity the area has to offer."
The piece is currently on display at Hebden Bridge Visitor Centre where it will remain until the end of January.