Protests as Town Council discusses the Sainsburys bid
Wednesday, 8 January 2014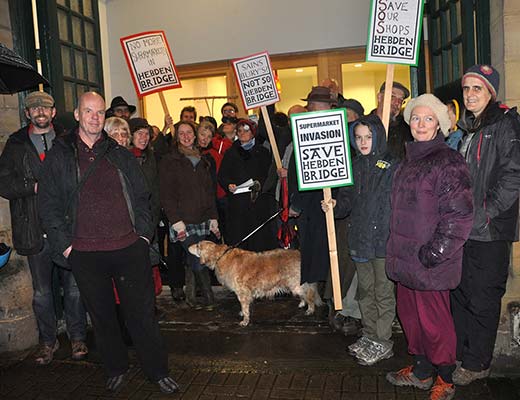 In spite of the pouring rain, a large crowd demonstrated outside Hebden Bridge Town Hall this evening in protest at the prospect of our town being taken over by supermarkets.
Many then crowded into the council chamber where all seats were taken and many members of the public were forced to stand or sit on the floor.
Hebden Royd Town Council have not yet received a formal planning application so were unable to discuss the issue in detail. However, they had received a letter from Sainsburys inviting them to a meeting and the council's response was discussed.
Representing the protestors was Hilary Chadwick from the newly formed group, SOS - No More Supermarkets in Hebden Bridge.
Mayor Karl Boggis allowed her five minutes to address the council.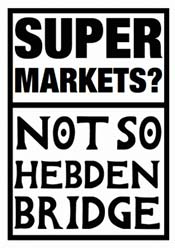 Hilary Chadwick said that "Hebden Bridge is renowned for its unique collection of small independent shops. Hebden Bridge has a strong community, with many active citizens.

"Supermarket profits are not fed back locally, and rarely support any community activities, unlike local businesses. According to the Federation of Small Businesses approximately half of the turnover of an independent local retailer goes back into the local community, while only 5% of the turnover of a supermarket does. 

"Hebden Bridge is a town which relies on tourism for a large part of its economy, and which sells itself on the basis of its little independent shops; if these shops closed, the scenario would be a disaster not only for the businesses themselves, but for our local economy and our community.

"Sainsbury's are proposing to build directly adjacent to Hedden Bridge's market place, and opposite our community - focused town Hall. We feel that this would be highly inappropriate.

"Our town does not need and does not want a Sainsburys. Supermarkets hoover wealth out of an area."
Councillors pointed out that the provisional planning permission for the old Fire Station site had now expired. So it was once again completely open as to how this key site was developed.
Cllr Young proposed that the Town Council should reply to Sainsburys that they should call a public meeting so that the Hebden Bridge community could make their views known to them. This was agreed.