The Book Case brings Alexander McCall Smith to Hebden Bridge
Monday, 13 January 2014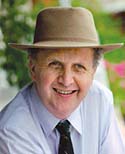 Alexander McCall Smith is one of the world's most prolific and most popular authors. For many years he was a professor of Medical Law, then, after the publication of his highly successful No. 1 Ladies' Detective Agency series, which has sold over twenty-five million copies, he devoted his time to the writing of fiction and has seen his various series of books translated into over forty-six languages and become bestsellers throughout the world. He is also the author of numerous children's books. Visit his website.
Kate Claughan told the HebWeb, "We are so excited to be able to announce a fantastic author event for the start of 2014."
Alexander McCall Smith will be in Hebden Bridge for an eveningas he launches his new book The Forever Girl. The Book Case was lucky enough to be one of a few independent book shops to be chosen by the publisher as part of Alexander's signing tour for his new novel.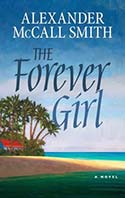 The Forever Girl: At the age of four Clover chooses her own name. Aged six, she falls in love with her best friend, James, with whom she happily spends all her time. But in the adult world, things are not so simple: at the same time that Clover's mother finds she's fallen out of love with her husband, she realises that James's father is interested in her. As the children grow into adulthood, their connection becomes more complicated as well: James drifts away from Clover, but she keeps him in her sights: she attends the same college in Scotland and then follows him to London, Sydney, Singapore, rebuilding her life in every city, hoping each time that James will see what he is missing. As Clover and James, and their parents, navigate their irresistible but baffling mazes of emotion, we are given a beautifully realised tale about how love, even if unrequited, can shape a life.
Since re-opening after the floods The Book Case has been keen to attract big-name authors to Hebden Bridge. They are hoping for a good turnout to encourage other authors to visit.

The Town Hall, Hebden Bridge
Monday 3rd February 7.30pm
Tickets £3 with £1 redeemable against a book purchase on the night. 
Tickets now sold out
More events from The Book Case