Fair Trade evening of discussion, films and refreshments
Friday, 14 February 2014
Fair trade – fair food? An evening of discussion, films and refreshments about Fairtrade and food justice, globally and locally, with a presentation by Aimeth Angula, a Colombian producer of Fairtrade bananas
Friday 28th February 2014, 7pm for 7.30pm
Methodist Church, Market Street, Hebden Bridge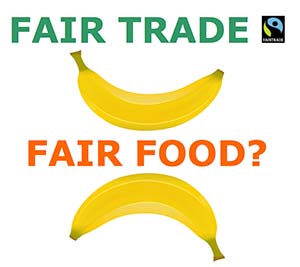 Estimated UK retail sales of Fairtrade products increased in value from £51 million to over £1000 million in the first decade of this century, boosted by supermarkets stocking more Fairtrade lines. Around 30% of banana sales are now Fairtrade, and many supermarkets no longer sell any other kind. But how much difference does this make to the producers?
During Fairtrade Fortnight, Hebden Bridge Fairtrade Forum and Calderdale World Development Movement are hosting a public discussion with a presentation by Ms Aimeth Alicia Fernandez Angula, a Columbian producer of Fairtrade bananas. As Elsa Fairbanks of Hebden Bridge Fairtrade Forum explains, "This is an opportunity to leapfrog the huge corporate retail and distribution networks of our food suppliers, and talk directly to someone who grows food that we buy."
Furthermore, do Fairtrade bananas on supermarket shelves represent a form of global food justice? Many people feel that global markets and multinational corporations have too much control over the way food is produced, distributed and sold.
Advocates of food sovereignty put the people who produce, distribute and consume food at the centre of decisions on food systems and policies. The evening will also include a short WDM film about these ideas, to stimulate a wider discussion about the way our food system is managed. Rachel Johnston, of Calderdale World Development Movement explains "the event aims to link the concerns of local food growers and consumers with global perspectives on food justice and fairness."
Fair trade – fair food? will take place on Friday 28th February at the Methodist Church, Market Street, Hebden Bridge 7pm for 7.30pm. Fairtrade refreshments will be available.