Ban The Burn campaigners mop up
Sunday, 23 February 2014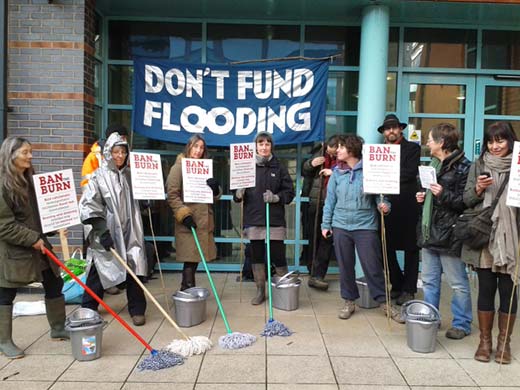 Protesters armed with mops and buckets visited the Head Office of Natural England in Sheffield Friday morning 21st February, to deliver a clear message, Don't Fund Flooding.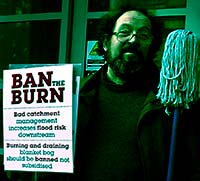 Millions of pounds of public money is being paid out in "environmental stewardship" subsidies to grouse moor owners who are burning protected blanket bog.
This is detrimental to designated priority habitat, decreases the ability of peat-lands to store rain water, and the bare ground left after burning increases run-off of water.
Jim Peterken, a Ban The Burn supporter told the HebWeb,"The general public may be interested in the issue that our hard-earned public tax money is being paid to rich landowners to flood us. Grouse moor owners are being paid millions of pounds through the environmental stewardship scheme, to protect the uplands. But they are burning blanket bog and making flooding worse in areas like Hebden Bridge. Not to mention destroying biodiversity."
Natural England advised staff to avoid visiting their Head Office this morning, in an attempt to avoid conversation or confrontation between workers and flood victims.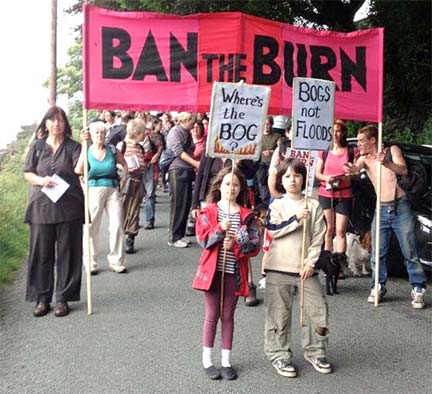 The Ban the Burn campaign was initiated after devastating flooding in Hebden Bridge in 2012.
In spring that year, Natural England had dropped a prosecution against Walshaw Moor Estate and instead signed a twenty five year burning consent, covering a significant area of the Hebden Water catchment.
A community learning process was initiated after the floods in Hebden Bridge, resulting in a document Understanding the Hebden Water Catchment.
Recent research by South West Water shows that restoring blanket bogs can reduce flood risk downstream.
Natural England undertook an uplands scientific review, which led them to undertake a "guidance refresh process" on burning. The agency now acknowledges that "burning has a range of impacts which are overall negative, and should therefore be phased out" but they are not proposing a robust response to deal with the problem: "The process of eliminating burning is going to be gradual in some circumstances".
The protesters handed in a letter telling Natural England that action on reducing run-off from the uplands is urgent to minimise flood risk downstream. Burning on blanket bog should be banned, not subsidised. Stewardship funding should promote the restoration of blanket bogs, not their degradation, and cessation of burning should be a pre-requisite.