Crafts Afloat Crusies into Hebden Bridge
Tuesday, 25 March 2014
Crafts Afloat cruises into Hebden Bridge this Spring! Crafts Afloat is a newly established environmental and ethical social enterprise which is run from a narrowboat art studio. Melanie Louise, a former art teacher has set up this small floating organisation and is bringing it to The Rochdale Canal.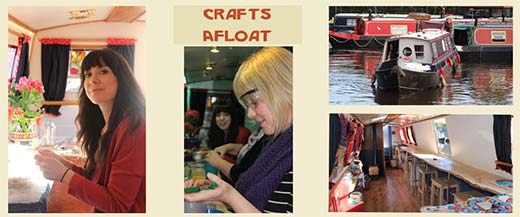 Crafts Afloat currently offers workshops and courses in Felting and Textiles, Mosaics and Lino Printing. Full day workshops include a lovely lunch at one of Hebden's fabulous cafes or canal side pubs.
This beautiful 38ft narrowboat is also available for creative gatherings to celebrate birthdays, hen do's or baby showers.
Crafts Afloat uses solar energy and promotes sustainable energy and low impact living to all its visitors.
The project offers client centered art sessions to community groups and charities, providing creative opportunities too help improve emotional well being in a beautiful and inspiring space.
See www.craftsafloat.com for more information.