Duckmania returned to Hebden Bridge. Why?
Tuesday, 22 April 2014
The bigggest question about the Duck Race is why? Why why why?
What is it that makes so many hundreds and hundreds of people crowd into Hebden Bridge for the annual duck race? Hebden Bridge is not short of regular attractions but yesterday's Duck Race probably attracted more people than any other.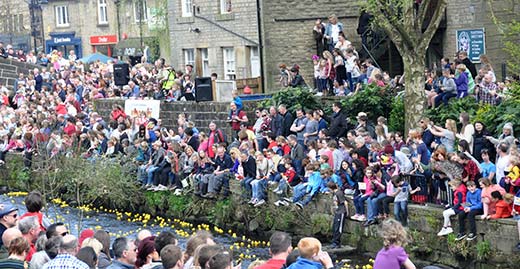 And what do they see? Thousands of yellow plastic ducks float a couple of hundred yards along the River Hebden Water for five minutes.
Maybe, because the event is so totally silly, the crowds just enjoy being among a crowd of other people with "this is so mad" smiling faces.

Or could it be just an excuse to have a day out in the sunshine with countryside which is near but not too near? And to listen to the increasingly dominant sound system announce that the "early leader is yellow".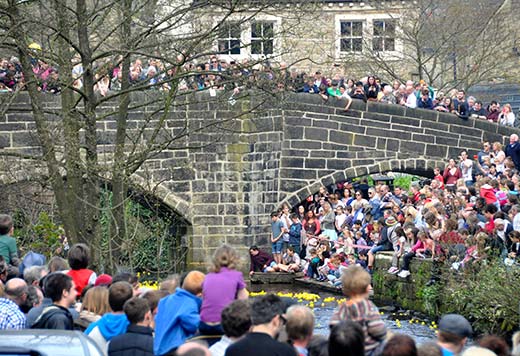 Whatever the reason, Hebden Bridge was yeaterday packed with people clearly enjoying their day out.

The earliest reference we could find on the HebWeb to the Duck Race was Easter 2001 when the ducks were launched near Nutclough Mill giving them much further to travel and making the race that much more more exciting.

It's not just a local phenomenon. There's even a website which hires out the plastic ducks, valued at 75p each. Predictably, the races started in the US.
Duck races are classed as a form of lottery in the UK, so every race needs a licence from the local authority. Our llocal Duck Race is organised by the Rotary Club and helps it donate thousands of pounds to local causes such as Calder Valley Search and Rescue, Hebden Bridge Band, flood relief and defences, MacMillan, scouts and Shelter Box.

Jim Henson popularized rubber ducks in 1970, performing the songs "Rubber Duckie" and "Duckie" as Ernie, a popular Muppet from Sesame Street. Ernie frequently spoke to his duck and carried it with him in other segments of the show.

Anyone for Pooh Sticks?

Duckmania returns to Hebden Bridge on Easter Monday
Sunday, 13 April 2014
Duckmania will get top billing in Hebden Bridge this Easter Monday 21st April for the 15th annual Charity Duck Race, organised by the Rotary Club of Hebden Bridge, whose members are pulling out all the stops to surpass last year's record takings.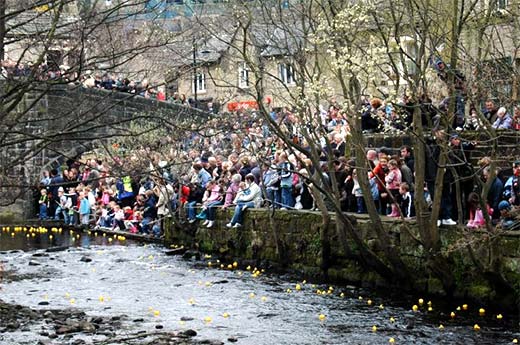 The event attracts thousands of visitors, from near and far. This is more than just a Duck Race - throughout the day there will be a variety of entertainment, including children's rides, charity stalls and live music from a local jazz band and Hebden Bridge Junior Brass band. It's a fun day out for all the family.
The Duck Race starts at approximately 3.15pm when the ducks are all launched at the same time into the river from St George's Bridge. It's quite a sight - over 7000 thousand individually numbered yellow ducks will race down Hebden Water to the finish line at West End bridge. Throngs of spectators watch from every possible vantage point. The crowds have been know to go completely quackers and get in quite a flap, anxious that their duck will be the first to float past the finish line!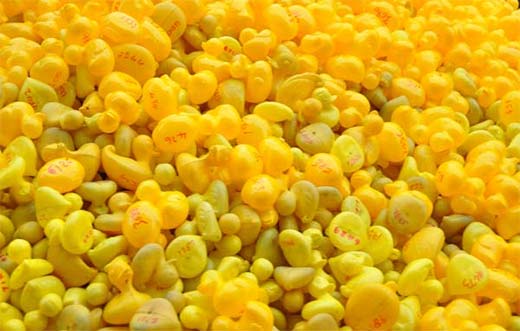 Tickets for the Duck Race cost £1 each and are now available from numerous shops and pubs in the town, displaying brightly coloured duckumentary posters, and from the Tourist Information Centre beside the Marina. This year, for the first time, the Rotary Club of Hebden Bridge will also be selling a limited number of tickets on-line here. There will be cash prizes for the first 4 lucky ducks to paddle across the finish line (£300 for the winner!).
Tickets, and other duck related gifts, will also be on sale from the Rotary stall in St Georges Square from 10.00am to 4.00pm on the 5th, 6th, 12th, 13th, 17 - 20th April, and also from 10am to 3pm on Race Day - Easter Monday.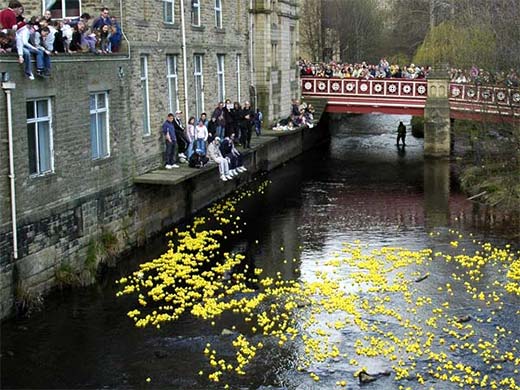 Following the success of last year's decorated duck competition, local junior and infant schools, nurseries and play groups are invited to submit entries for the 2014 competition. These will be displayed in numerous local shopfronts in Hebden Bridge / Mytholmroyd and members of the public can then vote for their favourite duck on www.hebdenbridgerotary.org.uk
The local business community also continues to support the event and Rotary Club of Hebden Bridge will, once again, be organising a Local Business Sponsored Duck Race, which is held just before the main event - with the winning red / green or blue ducks giving their business owner the kudos of displaying winners trophies & plaques.

All profits from this event are used by the Rotary Club to support mainly local, national & international charities, together with other worthy causes, totalling £31,931 contributions made in the last financial year alone. The event also generates substantial income for numerous local businesses during the event.
See previous coverage and photos of the Duck Race on HebWeb