Fantastical Cycle Parade – Todmorden
Tuesday, 22 April 2014
Crazy wheeled contraptions will be taking to the road for the Fantastical Cycle Parade in Todmorden on Saturday, 26 April - a good many of them pedalled by people from Hebden Bridge.
Organisers are delighted with how the workshops have gone in the past 2 weeks and stress it's not too late to take part.
The event, organised by Handmade Parade and Tour de Tod, is part of the Yorkshire Festival which is celebrating the region's art and culture in the run up the The Grand Depart of the Tour de France visitng Yorkshire in July.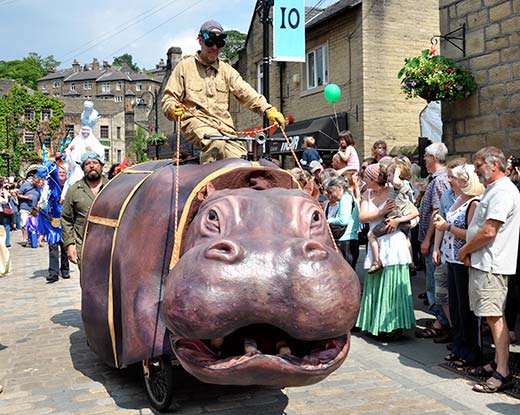 With over 100 decorated bikes and scooters, 4 giant kinetic sculptures, bands, giant walkabout puppets and street performers at the ready, it promises to be a fantastic spectacle.
Only people who have taken part in a workshop can be part of the parade for safety reasons, however "the last minuters among you are not too late" reassures Hannah Merriman, event organiser. "We have one last workshop on Friday from 12-7pm at Todmorden High School so if you want to be in the parade there's this one last chance to makeover your bike /scooter /buggy and take part. Remember your helmet!"
Participants under 13 must to be accompanied by an adult. There is a temporary bike park at the end of the parade which will be open until 4.30pm to allow participants to wander afterwards and enjoy the street entertainment without their bikes – bring a lock, bikes left at own risk!
It is likely that not only will there be thousands of local people in town that day, but a large amount of visitors too. There have been interviews on the radio and press throughout the region and the event will be covered on BBC Radio Leeds, broadcast live from Todmorden throughout the morning (9-12 noon).
"Let's make sure that everyone who comes into Tod that day, whether it's from Hebden Bridge or Hull, has a fantastic day. Cafes and pubs, be kind and open your toilets to our visitors. And make sure there's plenty of stocks in the fridge so no one runs out" suggests Hannah.
"Out local artists have really gone to town creating some fabulously inventive kinetic sculptures out of old bike parks. Some of our best stuff yet – you don't want to miss this!" said Andrew Kim, Artistic Director of Handmade Parade.
Helpful information for spectators
Parade starts at 1pm, arrive in town early to get the best spots. Be sure to stay for the street festival 2-4 by the market and see the bike art up close.
We recommend traveling by public transport or car sharing.
There will be additional free parking at Todmorden High, Weir's and on Salford Way yard. Many thanks to the school, Weir's and the Environment Agency for generously supporting this event.
Please park with consideration to residents and pavement users
The best places to see the parade are along Burnely Road, from Café 72 to the main roundabout, and along Halifax Road from the Roundabout to Myrtle Street. The parade will be using the full width of the road so viewing will be possible on both sides of the road.
For your safety and that of the parade participations, please stay on the pavements at all times.
Organisers would like to warn people in advance of the considerable disruption on Burnely Rd and Halifax Road from approximately 1.15 to 1.45 -  they recommend that if you need to travel at these times plan your diversion route to avoid frustration, or stop to enjoy the parade and travel later.