Celebrating 10 years of the Hebden Bridge Hill Millies
Wednesday, 23 April 2014
Hebden Bridge Hill Millies Morris dancers have now been in existence for 10 years, entertaining and educating the community with traditional music and dance.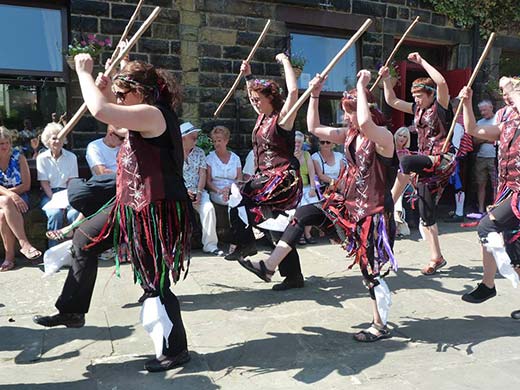 To celebrate our 10 years of Morris dancing we have invited other Morris dance sides to join us for a Day Of Dance in Hebden Bridge on Sunday May 4th.
We will be dancing in St George square, at the wavy duck steps, the marina, and elsewhere, with Morris friends from near and far. There may also be Circle dancing during the day.
The Hebden Bridge Hill Millies are a Women's Morris Dancing side based in Hebden Bridge, dancing in the Cotswold tradition infused with their own special magic. Accompanied by 4 fantastic fiddlers. We can sometimes be seen in Nora Batty disguise!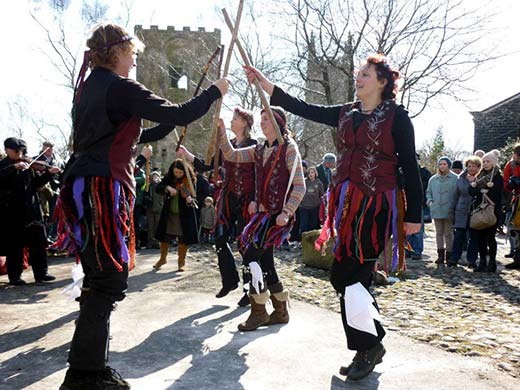 Alton Morris, all the way from Hampshire, are a lively, friendly, colourful side for both men and women, dancing in the flamboyant and fun Border style (from the English/Welsh borders).
Formed in 1990, Rainbow Morris are a Saltaire-based mixed team who dance in the North West tradition. The group includes a dedicated band of musicians playing traditional dance tunes on a variety of instruments, including accordion, guitar, melodion, concertina and drum.
Leeds Morris Men are a Morris Dancing Cotswold side from Leeds, in West Yorkshire. They have been morris dancing for several decades. The Leeds Morris Men kit consists of black shoes, white socks, white shirt and trousers with a baldrick in Leeds University colours of white, burgundy and green.
Bacup cloggers – a local clogging side, dancing in the Lancashire Clog tradition.

Katie Millie told the HebWeb, "We are celebrating 10 years of dancing with the Hill Millies; we've had amazing times dancing with people from all over the country, and with some of the best musicians in the area. There are constant surprises , a lot of laughs, fun exercise, morris mayhem, and a really great group of people!
"The Hebden Bridge Hill Millies are a popular and colourful part of the Hebden Bridge cultural scene; keeping alive traditional dance in the community, while injecting their own special groove."