Stairway to Old Town – Sponsors Wanted
Wednesday, 7 May 2014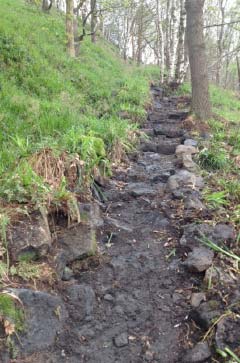 There is a path that runs from the old Co-op at the end of Boston Hill down to Midgehole and Hardcastle Crags. Part of the path that runs steeply down to Keighley road has been wrecked by water for years and is now only really usable by climbers and people into extreme sports!

CROWS are going to remake the path with at least 30 steps on it, providing a direct link from Old Town to Hardcastle Crags.
The photo (left) is the beginning of section down through wood that is impassable.

The land owner has kindly agreed and Calderdale Council have given their go ahead.  Some ground clearing has already been done, but it will cost about £500 to complete.

CROWS has pledges and contributions from Calderdale Ramblers, Hebden Bridge Walkers Action and the National Trust and will also be applying to Wadsworth Parish Council and other sources of funding.
CROWS need walkers and people from Old Town to sponsor a step. Each step costs £22 to put in, so if they can get ten individual or group sponsors, they reckon they can do it.

If anyone is willing to sponsor a step, they can send a cheque to CROWS at White Ribbon House, 1, New Road, Mytholmroyd, HX7 5DZ or make a bank transfer to Yorkshire Bank Todmorden, Sort code 050959 account no 39334282 (email us so we know who sent it) or drop their donation into Mountain Wild in Crown Street, Hebden Bridge. Any amount helps

White Ribbon House, 1, New Road
Mytholmroyd, HX7 5DZ
Website
Email crows-coop@outlook.com