Wainsgate Concert with Greg Spero
Wednesday, 14 May 2014
World-class jazz pianist Greg Spero brings his all-star quartet to Wainsgate Chapel on Sunday May 18 for the second concert in the venue's summer season.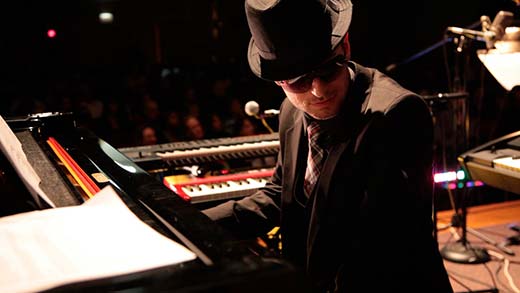 Chicago has produced many Jazz greats, Herbie Hancock, Lou Rawls, Benny Goodman, Ramsay Lewis and Anthony Braxton to mention but a few, and the city continues to generate the very best jazz musicians including the four outstanding performers whose  talents make the Greg Spero Quartet an irresistible force on stage.
Spero was Chicago's Jazz Entertainer of the Year in 2013and asthe pianist with the Buddy Rich Big Band has established his reputation on the world stage. Drawing influence from American jazz and world dance music Greg mixes these things together with rock, hip-hop and metal to produce a jazz fusion that's way ahead of the field.
The other members of the band are equally well established in the US jazz scene. On saxophones De'Sean Jones is well versed in the traditions of jazz as well as the experimental sounds of the future. His colourfully rich tone coupled with a powerful sound brings the best out of a musical legacy that contains jazz, rock & roll, hip-hop and soul.
On drums is Makaya McCraven who couples with his love for real hip-hop, rock, and any form of forward-thinking music into a dynamic instrumental fusion that is undeniable to the listener. He's a true improviser who, with each performance, creates a new live music experience.
Completing the rhythm section, bassist Junius Paul is well-established in many genres, ranging from jazz to hip-hop, house music, funk, classical and gospel, and his passion for music shows consistently in all of his playing. Paul has shared the stage such luminaries as Wynton Marsalis, Curtis Fuller, Donald Byrd, Donald Harrison, Nona Hendryx and Roy Hargrove.
"Sometimes at Wainsgate we just strike lucky" said concerts organiser Dave Nelson. "The band were going to be passing by between major venues, and we were able to offer them an extra date. It's a major coup, though…this band are as good as or perhaps even better than anything we put on at HX7 Jazz when that was going."
The Greg Spero Quartet's concert is at 3pm on Sunday and tickets, which are only available at the door, are extremely good value at £8 and £6. Wainsgate Chapel is on Wainsgate Lane, Old Town, Hebden Bridge HX7 8SU. Parking there is limited and reserved for disabled drivers. There are plenty of footpaths for those who'd like to walk from Hebden Bridge or there's an hourly bus service to Old Town Mill Lane (opposite Wainsgate Lane) where parking is also available. More details of all events can be found at www.wainsgate.co.uk.