Going out with a bang. Hebden Bridge Blues Festival 2014 to be the last.
Monday, 19 May 2014
The fourth annual Hebden Bridge Blues Festival starts in a few day's time
This is the biggest ever with 52 acts performing throughout the town and it is a great credit to the many people who have worked on the HBBF project, not least the musicians, that it has grown so quickly.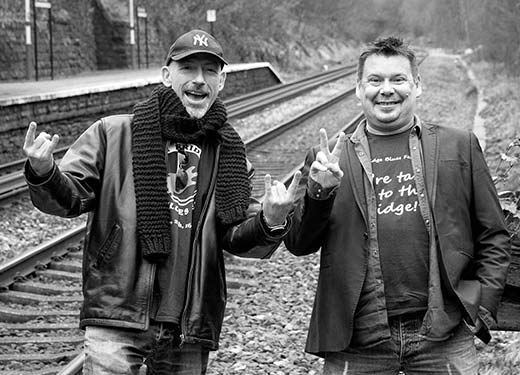 Since putting on their first one in 2011, the organisers have been awarded the British Blues Awards "Festival of the Year" in both 2012 and 2013, "which came as a total shock to us as our original intention was just to put on a few bands for our own enjoyment", Jason Elliott told the HebWeb.
"There are around 40 Blues festivals of varying sizes each year in Britain so for us to have got to this level so quickly, without a penny of public funding too, shows us that many other people wanted something different as well.
"Those of you who know us personally, know we're not comfortable with being part of the 'establishment' - we like to keep things fresh and exciting for us and 4 years is a long time for either of us to stay focused on a single project. This particular one has taken up a huge amount of time and energy and has outgrown our small town so quickly!
"With this in mind, we're going out with a bang and this will be the last ever Hebden Bridge Blues Festival, so if you've never joined us before and would like to see what everyone has been talking about, this is your last chance.
"Both of us, separately and together, will continue to be involved with various other music projects, so we won't disappear entirely, but we just feel that this particular event has run its course for us personally.
We'd love to see you next weekend for the Hebden finale, so we've issued some additional tickets to help that happen."
You can get yours, and your slice of British Blues history, by going to www.hebdenblues.co.uk
Events, venues and times
Friday May 23rd
3.00pm - Manitoba Hal - Muse Music, Market Street
4.00pm - Manitoba Hal - Blues Ukelele Workshop, Town Hall
7.00pm - Doors Open Main Stage*
7.45pm - Julian Burdock - Main Stage*
8.30pm - David Migden & The Twisted Roots - Main Stage*
9.00pm - Private Dicks - Old Gate
9.00pm - Alex McKown - Crown Inn
9.00pm - Jed Thomas - Marshall's Bar
9.00pm - The Rainey Street Band - The Vine
9.00pm - Mad Jack & The Hatters - The White Swan
9.30pm - DJ Dave Raven (Raven and Blues) - Main Stage*
10.00pm - Virgil & The Accelerators - Main Stage*
11.30pm - DJ Les Young (Wall to Wall Blues) - Main Stage*
Midnight - The Paddy Maguire Midnight Jam Sessions with the Hebden Allstars*
1.30am - Finish
Saturday May 24th
12 Noon - The Mustangs - Salem Electric Stage*
1.00pm - Dan Burnett - Salem Acoustic Stage*
1.00pm - Forty4 - Outlaw Stage (at the Main Stage)
2.00pm - Katie Bradley - Salem Electric Stage*
2.30pm - Bare Bones Boogie Band - Outlaw Stage (at the Main Stage)
3.00pm - Angelo Palladino - Salem Acoustic Stage*
3.00pm - Trevor Sewell (solo) - The Pennine Club
3.00pm - Open Blues Jam for all playing public - Marshalls Bar
4.00pm - Zoe Schwarz & Blue Commotion - Salem Electric Stage*
4.00pm - Makuini & The Hoodoo Men - Outlaw Stage (at the Main Stage)
4.30pm - Flock of 3 - Old Gate Bar & Restaurant
5.00pm - Dave Arcari - Salem Acoustic Stage*
6.00pm - Nat Martin Band - Salem Electric Stage*
7.15pm - Blues Boy Kings - Main Stage*
8.30pm - Paul Lamb & The Detroit Breakdown - Main Stage*
9.00pm - Little Devils - Old Gate Bar & Restaurant
9.00pm - Killer Bees - Crown Inn
9.00pm - Clare Free (acoustic) - The Vine
9.00pm - The Hexmen - The White Swan
9.00pm - Greasy Slicks - Marshalls Bar
10.00pm - The Motives feat. Matt Taylor - Main Stage*
11.30pm - DJ Dave Watkins - Main Stage*
Midnight - The Paddy Maguire Midnight Jam Sessions with the Hebden Allstars*
1.30am - Finish
Sunday May 25th
12 Noon - Richard Townend - Salem Acoustic Stage*
1.00pm - Half Deaf Clatch - Salem Acoustic Stage*
1.00pm - Tom Killner Band - JHS Stage (at the Main Stage)
2.00pm - Tom Attah & The Bad Man Clan - Salem Electric Stage*
2.30pm - Gav Coulson Band - JHS Stage (at the Main Stage)
3.00pm - Red Dirt Skinners - Salem Acoustic Stage*
3.00pm - Gary Grainger - The Pennine Club
3.30pm - The Terry Logan Band - Crown Inn
4.00pm - Marcus Lazarus Band - Salem Electric Stage*
4.00pm - Hannah Rickard & The Relatives - JHS Stage (at the Main Stage)
4.30pm - The Revelator Band - Old Gate Bar & Restaurant
5.00pm - Dove and Boweevil - Salem Acoustic Stage*
6.00pm - Tim Hood - Salem Electric Stage*
7.30pm - Gwyn Ashton - Main Stage*
8.30pm - Mark Pontin Group - Main Stage*
9.00pm - Tom Gee Band - Old Gate Bar & Restaurant
9.00pm - Lewis Hamilton - Crown Inn
9.00pm - Bonnie Mac Band - The White Swan
9.45pm - Russ Tippins Electric Band - Main Stage*
11.00pm - Northsyde - Main Stage*
Midnight - The Paddy Maguire Midnight Jam Sessions with the Hebden Allstars*
* Entrance with wristband only
HebWeb News: Hebden Bridge Blues Festival: Manitoba Hal joins lineup (15 May)
HebWeb News: Hebden Bridge Blues Festival 2014 (28 April)
Previous HebWeb coverage of the Hebden Bridge Blues Festivals