BBC's Blue Peter to film Handmade Parade
Tuesday, 20 May 2014
Hebden Bridge Handmade Parade participants will be able to say, 'Here's One We Made Earlier' when Blue Peter come to film at the 7th annual Handmade Parade on June 8.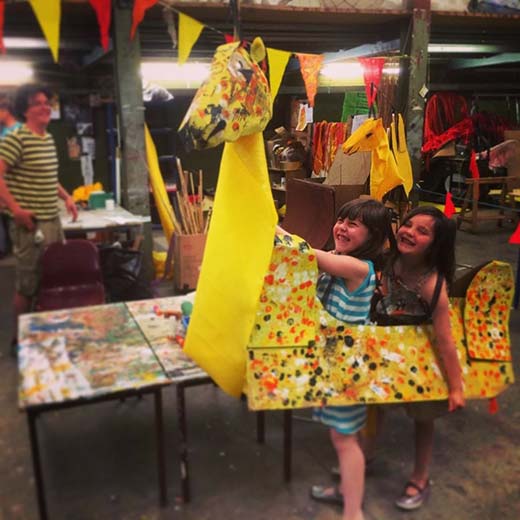 Here's One We Made Earlier!

The long-running BBC children's show want to show children across the UK what can be achieved with a bit of community spirit, some talented artists and a can-do attitude. So a team from the CBBC show will be filming at the Endangerous Expedition parade for a future episode of Blue Peter.
So if you'd like to be part of it, now's the time to get down to the Handmade Parade open workshops, which kicked off successfully last weekend.
Handmade Parade organiser Hannah Merriman said: "What a lovely start to this year's parade. Tons of sunshine, some gorgeous costumes made already and another 3 weeks of workshops to go. And we're delighted that Blue Peter are coming to watch and film the parade."
The theme for this year's Handmade Parade will be endangered, rare and extinct animals in four environments: Polar, Ocean, Desert/Savannah and Jungle. Each section of the Endangerous Expedition will have a giant animal with a child explorer on it and the sections will draw on design and decorative motifs of cultures from those areas.
More than a hundred people have already started making their crazy costumes. Expect to see giant turtles, amazing sea creatures, a polar bear and a sprinkling of creatures who no longer grace our planet but will be brought back to life on the day.
Last year more than a thousand people took part in the parade and organisers are urging those who would like to get involved to come along as early as possible to beat the last-minute crowds.
Workshops will run from 10am-12noon and 2pm-4pm on Saturday and Sunday with further workshops on Tuesday and Thursday during half term next week from 4pm to 6pm and at the same days and times through to June 5, with extra workshops for teens and adults from 7-9pm on June 3 and 5.
Workshops will be held at Unit 5, Victoria Works, Victoria Road, Hebden Bridge - entrance is by donation, a suggestion of £5 per costume for the first visit, and £1 per visit after that. All children under 13 need to be accompanied by an adult at the workshops and during the parade.
For more information go to www.handmadeparade.co.uk or anyone interested in volunteering can email Sue at volunteer@handmadeparade.co.uk