Thursday, 22 May 2014
A Spring Bank weekend Bus walks launch
The 901 runs through the glorious landscapes of the South Pennines between Hebden Bridge and Huddersfield. The 901 runs hourly, seven days a week throughout the year.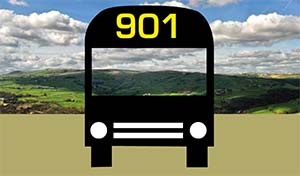 The 901 and 906 buses to Huddersfield and Widdop provide easy access to some fabulous upland walking.
Hebden Bridge Walkers Action, working with Metro has produced a Route Guide for both bus routes, each with details of twelve walks. Each walk is described and graded so people can see if it suits their ability.
The route guides will be launched on the Spring Bank weekend with three guided walks (check the Wild Side booklet). The Route Guides cost £1.50 each and will be available on the bus or from Hebden Bridge Visitor centre, walking shops and other outlets along the route.
If you are not sure which stop to get off, ask the bus driver who will know
where your walks start.
See Hebden Bridge Walkers Action website for further details about the 901 and 906 bus routes and the Spring Bank launch.
Previously, on the HebWeb
HebWeb News: Good news for walkers (Jan 2014)
HebWeb News: 906 launch going ahead this Sunday, 31 March 2013 (28 March 2013)