Wainsgate Concert: welcome return of The Outside Track
Monday, 26 May 2014
Wainsgate Chapel, Thursday May 29 at 7.30pm £8 / £6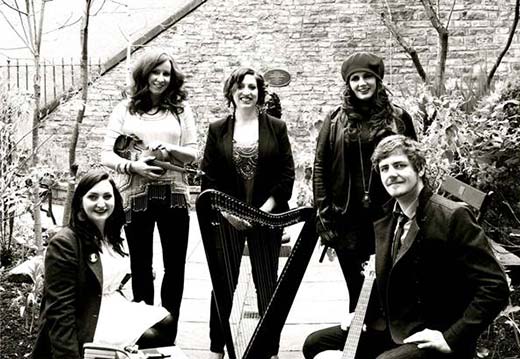 A welcome return for one of the most best and most popular groups ever to perform at Wainsgate. This is the 4th visit of the band to Hebden Bridge and if you missed them on those occasions, now's your chance! If you have been to one of their concerts you'll know exactly why they're worth seeing again. More information at www.wainsgate.co.uk

Winner of Best Group in both the Live Ireland awards and the TIR awards, The Outside Track are one of the top Celtic acts in the world. A stunning synthesis of virtuosity and energy, their marriage of Celtic music, song and dance has been rapturously received around the world. Hailing from Scotland, Ireland, and Cape Breton, its five members are united by a love of traditional music and a commitment to creating new music on this as a foundation.
They effortlessly fuse traditional and contemporary with winning joie de vivre. Recently joined by acclaimed singer Aoife Scott, the next generation of the legendary Black Family from Ireland, they blend fiddle, accordion, harp, guitar, whistle, step-dance and vocals with breathtaking vitality.

'Among the top groups in the world. Traditional, creative, and brilliant' LiveIreland.com.
The Outside Track:
Mairi Rankin: Fiddle / Stepdance / Vocals
Fiona Black: Accordion
Cillian O'Dálaigh: Guitar / Stepdance / Vocals
Aoife Scott: Vocals / Whistle / Bodhrán
Ailie Robertson: Harp
theoutsidetrack.com