Handmade Parade Photos
Monday, 9 June 2014
Update: Another superb Handmade Parade. Hundreds took part with their wonderful costumes and creations. Thousands watched with smiles and amazement in the June sunshine.
See See HebWeb photo gallery of the 2014 Parade.
Join the Hebden Bridge Handmade Parade
Tuesday, 3 June 2014
Hundreds of intrepid explorers will be setting out on an Endangerous Expedition when the Handmade Parade comes to town on Sunday - and Blue Peter presenter Barney Harwood will be amongst them.
A crew from the popular CBBC show were filming at the Handmade Parade workshops on Saturday and Barney tried out the bird bike he fancies puppeteering in the parade on Sunday.
Thousands of people are expected to line the route when the parade sets off at 12 noon on Sunday with a riot of colour, fantastic giant puppets and live bands Handmade Samba Band, Ski Band, Northern Lights Street Orchestra, Dhamak and Beatlife, providing the toe-tapping rhythms.
The theme for this year's Handmade Parade is endangered and extinct animals in four environments: Jungle, Polar, Desert/Savannah and Oceans. Each section of the Endangerous Expedition will have a giant creature representing it and the sections will draw on designs and decorative motifs of cultures from those areas.
Expect to see a giant turtle, an enormous Indian elephant, colourful toucans, families of camels, polar bears a plenty and a sprinkling of creatures who no longer grace our planet but will be brought back to life on the day – keep your eyes peeled for the dodos!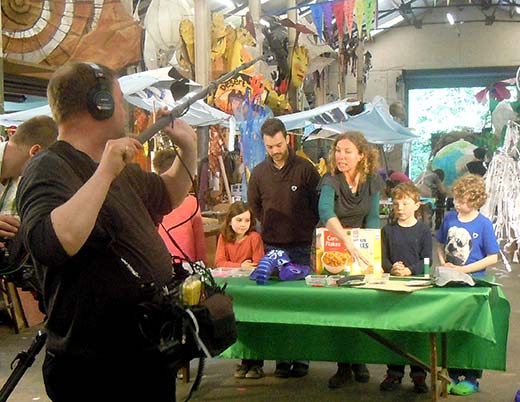 The Blue Peter team filmed children making their costumes at the workshops on Saturday, with Barney interviewing them about their colourful creations. They also filmed a special Handmade Parade make in the workshops with Barney, parade artist Fran Sierevogel and children Tallulah Hirst, Asha Wadley, Finn Sierervogel and Rohan Green making Indian elephant masks, which children throughout the UK will be able to try at home when the episode is aired next month.
Handmade Parade organiser Hannah Merriman told the HebWeb, "What a fantastic weekend for the parade and for all the children involved. There was a brilliant buzz all day with the Fair for Youth and the Salem Fun Day, which were also taking place, creating a town-wide buzz with Barney Harwood smack in the middle of it at our workshops! Roll on Sunday!"
And Handmade Parade Artistic Director Andrew Kim, who received a Blue Peter badge for showing Barney how to puppeteer the bird bike, said, "The parade costumes are looking exceptional this year. We're so pleased to be able to continue bringing this event to our community and pleased to attract more and more positive national attention for Hebden Bridge. Please give generously to the Golden Snake Charmers in the parade who will be collecting for this and future Handmade Parades."
Hundreds of people have already made their crazy costumes and the final workshops will be held at Unit 5, Victoria Works, Victoria Road from 4-6pm today (Tuesday) and Thursday with a 7-9pm workshop for adults and teenagers on both evenings.
Participants are asked to be at the parade workshops at 11am on Sunday for the line-up, with the parade starting at noon. Those taking part and watching are asked to walk to the workshops, use public transport or park near the train station as parking around the workshops will be extremely limited. There will be traffic delays on the A646 Halifax Road between 12.20pm and 1pm.
The best vantage points to view the parade will be in Valley Road and Holme Street, where it tends to be quieter, and spectators are urged to arrive early and make a lot of noise!
From the Victoria Road start, the parade will wind its way along Valley Road, past St George's Square, along Bridge Gate, Holme Street and into Calder Holmes Park, where there will be a finale with live bands playing, belly dance troupes from Todmorden and Halifax and a local food festival where you will be able to feast on some fantastic local products.
This year's finale will give all parade participants the chance to strut their stuff with fellow creatures from their section and will culminate in a giant disco of the world for all to take part in.