The Cycle Exchange connects young of France and Yorkshire
Monday, 16 June 2014
Despite being 800km apart Yorkshire and French youth groups are set to exchange dance styles, share inspiration, and challenge cultural divides… live on stage.
The Cycle Exchange is the latest project by Outta Place, a Calderdale-based youth arts organisation headed up by Hebden Bridge resident Clare Donegan. The project mirrors the union of France and Yorkshire that we're going to see in the Tour de France this summer and aims to unite marginalised young people from both sides of the English Channel using contemporary dance and sophisticated telepresence technology.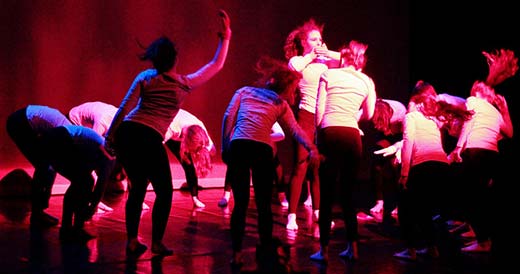 During a three month programme the young dancers from Yorkshire have been regularly connecting with their French counterparts for a series of rehearsal workshops. Using telepresence the two groups are able to virtually dance alongside each other, building an artistic collaboration and cultural exchange.
Both nations have vibrant hip hop cultural scenes and the final event will showcase some of the best resulting in an intense and glorious dance off!
Not only this, The Cycle Exchange performance, which happens at Orangebox in Halifax on Sunday 29th June, will create an aesthetically beautiful and challenging visual piece where audience and dancers will be taken to a 'third space', where dancers' bodies interlace, interact, swap and layer over each other via technology.
Read more about the Cycle Exchange project.
Tickets are free and available via the Square Chapel Box Office and Eventbrite.
The project has taken place in partnership with excellent local organisations Yorkshire Dance and The Square Chapel and the performance showcase is part of the Halifax Festival and the Yorkshire Festival Fringe.