Macbeth in the Crags
Thursday, 26 June 2014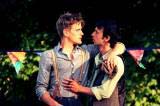 A completely bonkers and fast paced production of Macbeth will be performed by a troupe of cycling players at the National Trust's Hardcastle Crags as part of the Festival of Yorkshire on 3 July 2014.
This four-strong, all male troupe of cycling players, are travelling over 2000 miles on this the second outing of their environmentally sustainable touring theatre.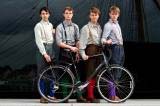 At Gibson Mill, they will perform Macbeth, Shakespeare's play of ambition, magic and murder driven by the prophecy of three witches and a ruthless wife. Although Macbeth's tale brings a chill to the spine, this performance will provide an evening of fun, entertainment and laughter with the bikes playing an integral part of the performance and each of the cast playing multiple roles.
Susi Leach, Visitor Services Manager at Hardcastle Crags says, "We are really looking forward to The HandleBards' performance of Macbeth which will be in a distinctive style and have a lighter feel, therefore promising to be a fun night out for all.
"For all of us working at Hardcastle Crags, it is especially rewarding to see Gibson Mill being used in this way, as during the early 1900s it was a dance hall and entertainment centre for the local residents and townspeople of Hebden Bridge with plays regularly being performed for the local community."
The HandleBards, founded in 2012, will travel from South East England to Scotland, before departing to Continental Europe where their adventure continues. They will cycle an average of 30 miles a day and do six performances a week of either Macbeth or A Comedy of Errors.
All the living equipment, tents, set, props, costumes and the occasional luxury will be carried on their bikes with no back up 'tour bus' arranged. The bikes play an integral part to the performance powering surprises along the way and in which each of the cast play multiple roles.
The performance on 3 July will start at 6.30pm and will be performed in the courtyard. Refreshments will be available.
Tickets are available online here
Longterm residents of the area may remember, some years ago, trying to keep the midges away while while watching excellent productions of Sir Gawain and the Greene Knight and Hardy's "The Woodlanders" as the sun went down deep in the heart of the Crags