Cragg Vale is gearing up for Le Tour
Tuesday, 1 July 2014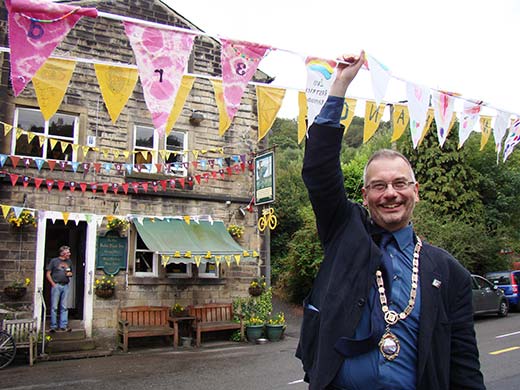 On Saturday 28th June, the Mayor of Hebden Royd, Cllr Timbers joined the residents of Cragg Vale, as the excitement took hold in anticipation of the long awaited Grand Depart which will pass through the village this Sunday.
Over the past year, residents have been working on creating the longest continual stretch of bunting in the world. An event was held at Turkey Lodge where the Mayor was part of the judging team who would decide if the record had been broken.
Part of the celebrations included a 'Best Dressed Bike' competition; children from the village entered in to the spirit of the day and came up with some marvellous creations. Cllr Timbers gave out the prizes after the event, as the collection of brightly coloured bikes gathered in Cragg Vale Park.
The official results from Guinness World Records will be out in due course and are awaited with bated breath, but in the meantime, Cllr Timbers helped to start off the mammoth task of hanging the bunting along Britain's longest continual incline and one of the biggest challenges for the cyclists next week.
Cllr Timbers said 'The community response to Le Tour has been tremendous and I'm delighted to support local groups on behalf of the Town Council that want to make the most of this historic opportunity'.