Volunteers help to reduce flood risk
Tuesday, 15 July 2014
Local volunteers have been helping to keep the River Calder in Mytholmroyd clear of vegetation to reduce the risk of flooding, and there are still lots more chances to take part.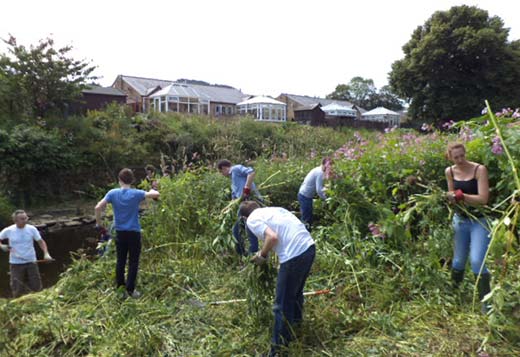 Work by the Environment Agency has shown that removing overgrown vegetation from the river is far more effective at reducing flood risk than taking away stone and gravel shoals.

Getting communities involved in this gives them chance to make decisions and take an active role in managing their local rivers – which is known as river stewardship. Volunteers have already started clearing the river channel and removing non-native species like Himalayan Balsam from the riverbanks and other locations throughout the Calder Valley. Himalayan Balsam out-competes native plants to produce excessive amounts of vegetation.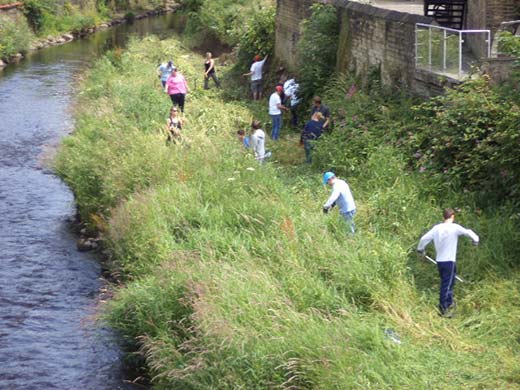 This is currently part of the Defra-funded 'Pathfinder' project being managed by Calderdale Council. The aim is to help improve community flood resilience, and the Council is working with the Environment Agency and Calder Future – a local not-for-profit organisation running the volunteer scheme – as well as other local organisations.

The scheme started last year and lots of local people are getting involved. Groups are also taking part, such as Calder Valley Search and Rescue, who are specialists in removing the larger debris, and Lloyds Banking Group. Lloyds Bank, as part of its 'day to make a difference' scheme will return to the Mytholmroyd riverbank on Friday 11 July, as will local firm Thomson Reuters with pupils from Calder High School on Wednesday 9 July.

There are many more volunteering days, for anyone to come along, being arranged throughout the summer in Mytholmroyd, Hebden Bridge, Todmorden and elsewhere in the Calder Valley. If you want to be involved, or are part of a group that would like to volunteer, please contact Gavin Roberts or text 0777 231 8566. For these and other environmental volunteering opportunities, check out the new events calendar at the Green Calderdale website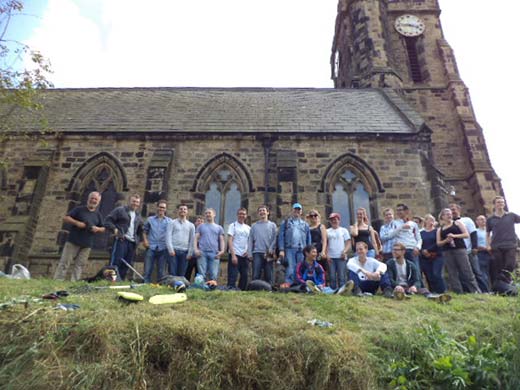 Calderdale Council's Leader, Cllr Tim Swift, said, "The volunteer days are a great opportunity for communities to play a part in maintaining their local rivers. I'm pleased that lots of people have taken part so far, and I hope that even more get involved over the summer. We are working with the Environment Agency, Calder Future and other local organisations to tackle vegetation in the River Calder as part of our ongoing works to reduce flooding risk, and are due to be on site to start building the first flood risk reduction schemes in October."

Anthony Rae, Chair of Calder Future, said, "The 2014 river stewardship programme has got off to a great start in Mytholmroyd, guided by the Environment Agency's expert modelling of what are the most effective tasks for volunteers to undertake. Thanks to the great response from many types of groups we hope everyone will soon see the difference on the riverbanks, with reduced vegetation also reducing the flood risk. We'd particularly welcome community volunteers to join the effort to protect their own town."