Walk and Ride Festival, including Up the Buttress
Friday, 18 July 2014
The Tour de France has put Hebden Bridge and the South Pennines on the map; now cyclists can enjoy more in the South Pennines Walk and Ride Festival this September.
Up the Buttress, family friendly rides, charity events, bike maintenance and so much more; the South Pennines Walk and Ride Festival has it all this September. The peloton may have been and gone but the challenging terrain and beautiful landscape remain. This stunning area will yet again be on show during the South Pennines Walk and Ride Festival, between Saturday, September 6 and Sunday, September 21. There will be over 30 cycling events taking place ensuring there'll be something for everyone.
The South Pennines Walk and Ride Festival website has details of the events taking place during the festival this year. As there are so many events a new search function has been added to make it easier to find a suitable activity. People can now search by activity, place or day. The South Pennines is criss-crossed by rail links making the events easily accessible from surrounding urban areas. Northern Rail is a keen supporter of the festival and this year is the official sponsor.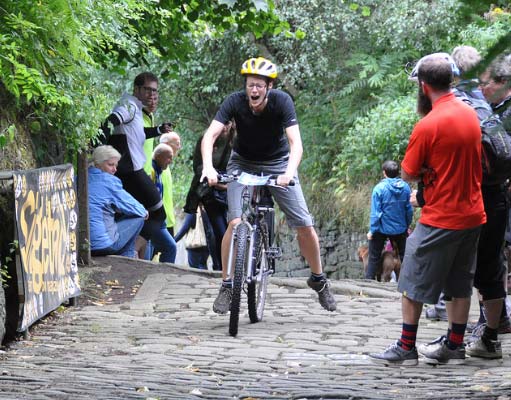 Brave cyclists will take on the timed challenge of climbing the very steep 400 metres cobbled road out of Hebden Bridge for the Up the Buttress event on Saturday, September 6. Ever popular with cyclists as well as spectators participants can win prizes, and more importantly kudos, in this calendar highlight organised by Singletrack.
For those wishing to take a more laid back approach to their cycling, but still enjoy the stunning South Pennines scenery, there's an eight mile evening ride for the sunset at the Singing Ringing Tree setting off from Clowbridge Reservoir, Lancashire, also on Saturday, September 6.
To experience a classic Pennine ride cyclists will have to be fit and capable for the ride from Halifax to Waddington and back on Sunday, September 14. There will be lunch at the Waddington Cafe, a cyclists' favourite, to spur on participants. This ride is graded as strenuous, will take nine hours, including lunch, and is approximately 80 miles long returning via quiet but hilly lanes.
For women only there will be a road ride over Widdop Moor on Saturday, September 13. Although this is a challenging 30 mile ride it will be taken at a steady pace and no-one will be left behind. On Wednesday, September 17 there will be a 20 mile ride along the bridleways and tracks of the Shibden Valley.
Throughout the Walk and Ride Festival there are a number of events organised through the local Go Sky Ride groups, in Calderdale, Bradford and Kirklees. These rides give a range of easy ways to get out on two wheels. These guided rides offer great routes, support from trained leaders and a chance to socialise with like-minded people.
Iain Johnson, of MTB guided bike tours, has organised several bikes rides that take in some of the land artworks installed as part of the Fields of Vision project. These installations lined the race route and animated Day Two of the Grand Départ of the Tour de France.
"When people think of Yorkshire they think of the Yorkshire Dales but I hope that the Tour de France will bring more people to this part of Yorkshire," explained Iain. "As part of these guided tours, which will be about 20 miles, we'll see at least five of the artworks. I'm particularly fond of the Leaping Lady as I helped test the course before the artwork was created by cyclists riding along the outline."
Again this year there will be the Bronte Mountain Bike Challenge to help raise money for the Sue Ryder charity. The three routes, Charlotte, Emily and Anne offer a range of rides suitable for riders of varying abilities. Charlotte, at 27 miles, is graded as an extreme challenge; Emily is an intermediate route of 23 miles; and Anne is designed for beginners and is an 11-mile ride. All will take place on Sunday, September 21.
And it's not only bike rides. There will also be a mountain bike repair and maintenance day at New Meadows Gap Cottage, Darwen, Lancashire on Friday, September 12. Participants will find out how to check their bike before riding, looking at tyre pressure, cables, wheels and chains; how to set up their bike, including aligning brake pads and gears; and how to do minor repairs, such as changing an inner tube, replacing brake pads and discs and breaking and rejoining a chain.
The South Pennines Walk and Ride Festival is managed by Pennine Prospects, a rural regeneration company set up to champion the South Pennines; an area renowned for its natural beauty and wildlife, great people, quirky traditions and independent businesses.
See also: Walk and Ride Festival website
Up the Buttress photos: 2013 - 2012 - 2011
HebWeb YouTube video: 2013