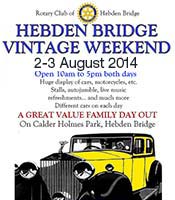 Hebden Bridge Vintage Weekend Car Rally
Friday, 25 July 2014
On the weekend of 2nd-3rd August, the Rotary Club of Hebden Bridge once again hosts the charity fund-raising Hebden Bridge Vintage Weekend. The event, now in it's 32nd year, is well established as a premier attraction for the display of some 600 veteran, vintage and classic cars, motorcycles, military and commercial vehicles.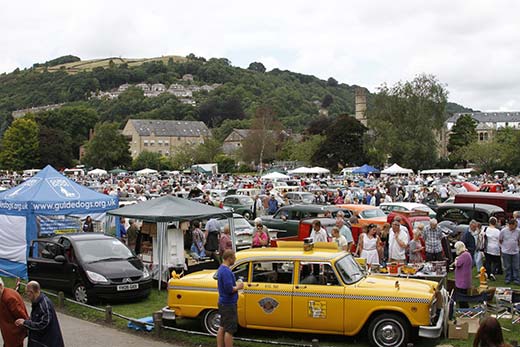 Owners and spectators come from far & wide, making the 2 day event is 'One of Britain's Best Events' according to Classic Car Weekly. Many local exhibitors will attending the event over the two days, including:-
Retired dental surgeon, James Farrar, will again be showing his well-known blue Rolls-Royce convertible. Once owned by Prince Abdul Ilan of Iraq, the immaculate condition of the car belies it's 75 year age. James says 'I look forward to this event every year, having practised in Hebden Bridge,so the town is still close to my heart.'
Warren Allinson, from Southowram, has recently acquired a 1962 Morris Minor from a fellow enthusiast in Bournemouth. The car is in immaculate original condition and  Warren is looking forward to many more years enjoying his hobby of attending car rallies.
Working hard against the clock to have his 1947 Daimler saloon ready in time is Chris Ferneyhough. Chris has attended the Vintage Weekend for many years and enjoys the fact that there is a lot to see particularly with the many stalls.
Original cofounders of the Vintage Rally, John and Marilyn Rushworth will again be enthusiastically attending both days with their three open cars, a vintage Morris, a Bentley and a Buick.
From along the Valley Peter Sutcliffe will be attending with his very rare MG. Built in 1933 this six cylinder prototype for the L1 model was used in all the publicity photographs at that time. Peter's ownership of over 30 years has included a 3 year rebuild to ex works condition and it's Dublin and Ulster green paint with matching upholstery continues to impress at all the rallies which he attends. Peter says, 'this car has given me enormous pleasure over the years and the Hebden Bridge show is one which I always attend'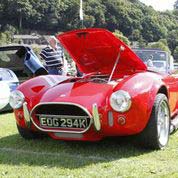 Held in the heart of Hebden Bridge, at Calder Holmes Park, most of the famous British marques are represented at the rally, along with famous names from across the word. The open plan layout of the site allows members of the public to get up close to the exhibits and chat to their owners. There are different display classes over the two days offering visitors a completely different show each day. Prizes will be awarded to all the winning entrants, on a 'self judging' basis.
The display on Saturday 2nd August will be Classic Cars (1971 - 1993), Motorcycles (1971 - 1993), Rolls Royce & Bentleys (any age), Replica or Kit cars (any age), Military vehicles (any age), Tractors (registered pre 1993), Pre - 1971 registered vehicles, Novelty vehicles (pedal cars / classic bicycle etc).
As an added bonus, on Sunday morning, 3rd August visitors to Hebden Bridge can watch the Historic Commercial Vehicle Society's famous 'Trans Pennine Run' pass through the town. Hebden Bridge is an ideal location to watch this magnificent collection of historic vehicles as they wind their way across the Pennines, en route from Manchester to Harrogate.
Also on Sunday, there will also be a 'Scenic Run' giving all participants a chance to meet beforehand and take part in this popular event, arriving at Calder Holmes Park around midday.
Sunday's display will feature Veteran & Vintage cars (up to 1930), Post Vintage cars (1931 - 1939), post War cars (1940 - 1960 / 1961 - 1972), Motorcycles up to 1972, American vehicles up to 1972, Military vehicles (any age).
The organisers have told the HebWeb, "Hebden Bridge is well worth a visit, if just to experience what the British Airways In-Flight magazine described as 'One of the most funky towns in the world'. The town centre, with its wealth of independent shops, cafes, restaurants and pubs is only a couple of minutes' walk from Calder Holmes Park."
This is an event with something to please the whole family - it is far from being merely a show for collectors. Not only will there be splendid vehicles on display but also varied entertainment including live music, fun rides for children, craft & product stalls, together with a wide range of quality catering and refreshment outlets.
Additional car parking and toilets have been facilitated for the weekend, which will be clearly signposted.  The park also has a children's playground & skateboard area. St. John's First Aiders will be in attendance, on both days.
So, a fantastic fun packed weekend, with the funds raised by the Rotary Club of Hebden Bridge helping to support a wide variety of charities, good causes and individuals in need - with nearly £32,000 distributed in the last financial year alone. 
For further comprehensive information logon to