The King's Troupe perform at Stratford
Wednesday, 13 August 2014
Hebden Bridge based theatre company, The King's Troupe, spent the weekend of the 2nd-3rd August in Stratford upon Avon.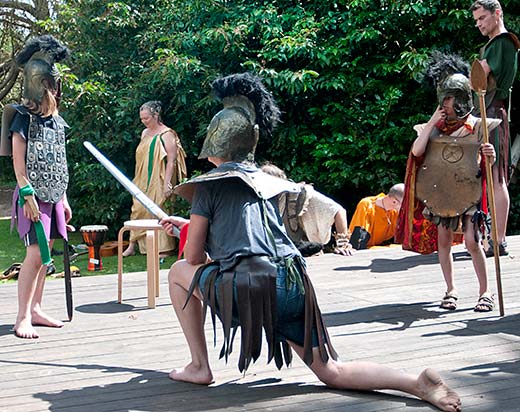 They were there at the invitation of the Royal Shakespeare Company to take part in their Open Air Theatre project; they performed their colourful version of Troilus & Cressida on The Dell open air stage, as well as staging a procession of the cast and musicians through Stratford and two pop up performances outside the RSC theatre.
The King's Troupe are an intergenerational theatre company specialising in Shakespeare: they have performed at The Dell for the past three years and are currently working with Manchester's The Contact Theatre as part of the RSC's Open Stages project.
The group are always looking for new members and have a strict policy of not holding auditions. For more information visit their Facebook page or email kt@calico17.plus.com.
HebWeb News: The King's Troupe from Hebden Bridge to perform Troilus and Cressida as part of the RSC's Open Stages project (Dec 2013)
HebWeb News: The King's Troupe from Hebden Bridge perform Richard III in Stratford on Avon (Aug 2013)
HebWeb News: The King's Troupe from Hebden Bridge perform at Stratford on Avon (Sept 2012)