20mph policy will still be implemented
Wednesday, 20 August 2014
In spite of the coup at Calderdale which saw the Lib-dem - Conservatives regain power, the 20mph policy will go ahead - but, but for Hebden Bridge and surrounding villages, not for over 18 months.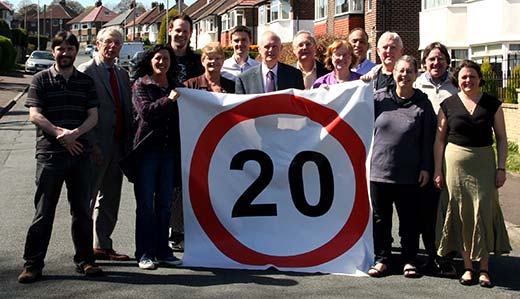 Calderdale Labour has today welcomed assurances from the new Conservative-Liberal Democrat coalition that they will implement Labour's progressive 20mph policy.
Calderdale is the first local authority in West Yorkshire to declare that twenty is plenty, in a move that will see 20mph become the default speed limit in all residential areas within the borough.
Labour's Health Inequalities Spokesman, Cllr Simon Young said:
"I'm really pleased that the Conservative –Liberal Democrat coalition, who now lead Calderdale Council, have agreed to honour the decision of Council to implement 20mph speed limits in all residential areas.
"Traffic speed is a huge issue for residents in every corner of Calderdale and Labour's 20mph policy takes real action to address both the problems and perception of speeding traffic through our communities.
"The speed of a vehicle is the single main factor that contributes to road fatalities and a recent study found that 45% of pedestrians are killed when struck by vehicles travelling at less than 30mph, dropping massively to 5% at speeds below 20mph. The facts really speak for themselves.
"This is good for the safety of our residents, good for the health of our residents, good for the environment, good for the community at large."
Between 2010 and 2012, the proportion of children killed or seriously injured in road traffic accidents in Calderdale was almost twice the average for England. This is one of the reasons why the previous Labour administration took such decisive action.
But this is much more than just about public safety; it's about increasing the opportunities to take part in activities that improve health and more sustainable forms of transport.
Research suggests that people walk and cycle more in areas with slower moving vehicles.  This is particularly true for women, children and older people. This means it may also have an impact on reducing health and social inequalities. 
Implementation:
Officers have designed the scheme to be rolled out in 5 phases.  Each phase has a lead area which has a high number of KSI (killed and seriously injured) and scores highly on the casualty matrix which ranks the different areas. The other areas in each phase are those closest linked to the lead area by geography.  Consideration was also given to the population of the area to concentrate first on places where the introduction of a 20mph scheme will have a significant impact.
Previously
HebWeb News: 20mph for residential streets (April 2014)
HebWeb News: 20 mph throughout Calderdale? (Nov 2013)
HebWeb News: 20 mph should be normal speed for residential roads (July 2007)